Tiptoes and anxiety: developing character in Actually
By Carson Schmidt
At the heart of two very outwardly confident characters lie deep-rooted insecurities – in themselves and the systems around them.
Gearing up for Alberta Theatre Projects' Actually, actors Emma Houghton and Diego Stredel dove into the intentions and connections that make their two characters, Amber Cohen and Thomas Anthony, so complex. Both college freshmen at Princeton University, their stories about what actually happened during a hookup touch the lines of consent, race and justice.
For Diego Stredel, he found the character of Tom by relating to the struggle of trying to be yourself, while trying to fit in.
"You feel like a different version of yourself… like you're putting on a mask," he said.
Stredel's character, Tom, finds himself changing his personality based on the people he's around, blending in "like a chameleon." This creates a lot of uncertainty for Tom as he never feels truly comfortable around others.
This uncertainty comes to a head as his character recounts the traumatic event that threatens to exile him from Princeton, or worse.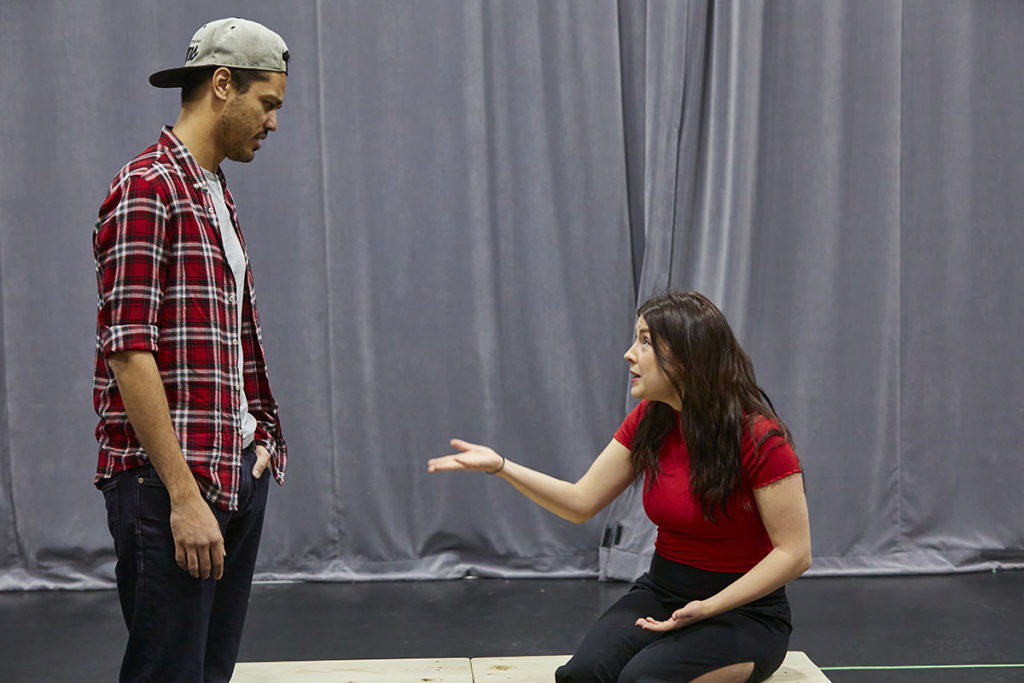 Emma Houghton treads a different line with her character Amber Cohen. Despite her fears, Amber uses outward confidence to take every chance she gets, trying hard to live up to her first-year expectations.
"I know that I have a lot of anxiety… and I keep that very much inside," said Houghton, describing how she relates to the façade of confidence that Amber builds.
The play digs deep into the effects of race on justice, exploring both sides and challenging our assumptions.
"Tom tiptoes his way through the world aware of who he is and how other people perceive him," Stredel explained. As members of marginalized communities, both Amber and Tom reflect the constant fear of anyone who hides their true self in order to survive.
"I hope that the audience walks away with the understanding that's there's always more to the story… and that it's always important to hear what everyone has to say, then to make the judgement call after that period," said Houghton. Nuance is key in Actually, and as characters walk a very fine line between good and bad, we ask ourselves: At what point are these characters in the wrong?
As a direct address, the characters in the play talk directly to the audience, creating an immersive, gripping experience.
"The text itself keeps the audience's attention," explained Houghton. Diego Stredel added, "I feel like the audience is going to feel a direct connection between the characters and themselves."
---
Actually runs from February 26 – March 14 at the Martha Cohen Theatre.
Header Photo: Emma Houghton and Diego Stredel in rehearsals for Actually. Photo by Jeff Yee.