Student Matinees
ATP Student Matinees bring the excitement of live theatre to students from across Calgary. Bringing live theatre professionals and youth together, ATP strives to assist teachers in integrating the arts into their curriculum. ATP brings contemporary, relevant plays to life on the Martha Cohen Theatre stage and is proud to offer schools the opportunity to see our world-class productions through our Student Matinee program.
Audience Advice: Our audience advice is a grade recommendation. We base those on what we deem appropriate for Kindergarten through Grade 12 students however it is always subjective, so if you are concerned about the content of the performance, please inform us before making your request. We will be happy to provide you with more information (though the amount of information we are able to provide is subject to availability when the matinee is a touring presentation or brand new work).
---
2020-2021 Student Matinee Series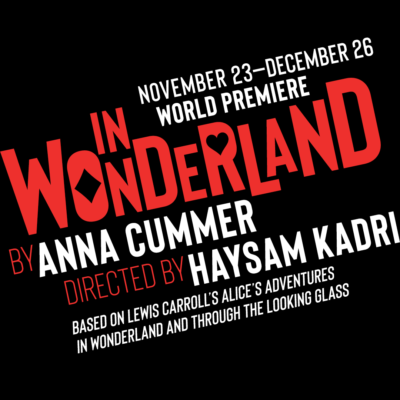 In Wonderland
By Anna Cummer
Directed by Haysam Kadri
Based on Lewis Carroll's Alice's Adventure in Wonderland and Through the Looking Glass
November 25, December 1, 2, 8, 9, 15 & 16   |   11:30AM
Grade Recommendation: 1+

Tickets $21
120 min, 2 acts
World Premiere
Proscenium Stage
In this ambitious and contemporary retelling of Lewis Carroll's classic novels, Alice in Wonderland and Through the Looking Glass, three actors fantastically portray the story's iconic characters, transforming right before audience's eyes. Follow Alice through the rabbit hole, and be swept away through theatre magic, as the stage spectacularly metamorphosizes into a stunning visual realm. In Wonderland is a world premiere, commissioned and developed by Alberta Theatre Projects, which revisits these timeless stories in a newly imagined way. Be guided through a journey of self-discovery, exploring the resonating themes that Alice reflects upon: "Who am I?" and "Where do I really want to be?"
In Wonderland Educator Resources
---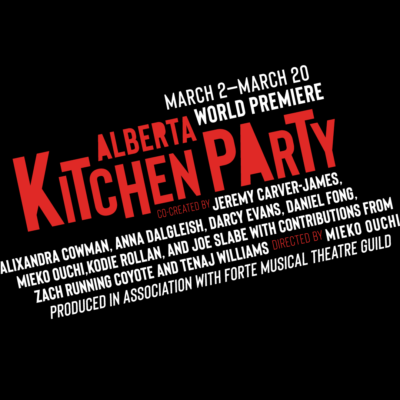 Alberta Kitchen Party
Produced in association with Forte Musical Theatre Guild
Co-Created by Jeremy Carver-James, Alixandra Cowman, Anna Dalgleish, Darcy Evans, Daniel Fong, Mieko Ouchi, Kodie Rollan, and Joe Slabe with contributions from Zach Running Coyote and Tenaj Williams
Directed by Mieko Ouchi
March 3, 9   |   11:30AM
Grade Recommendation: 8+
Tickets $21
75 min, 1 act
World Premiere
Cabaret Stage
A spirited musical celebration, Alberta Kitchen Party, is woven together with a candid, personal look at the unique journey each artist has taken to a life on the stage. A group of friends share stories of their experiences growing up in Calgary, finding their ways as humans and artists, and celebrating their emotional connections to the city and the province. Experience an intimate evening with these multi-talented performers as they raise their voices, sharing their hopes, fears, struggles, and victories. A World Premiere commissioned by Alberta Theatre Projects as a joint initiative with Forte Musical Theatre Guild.
---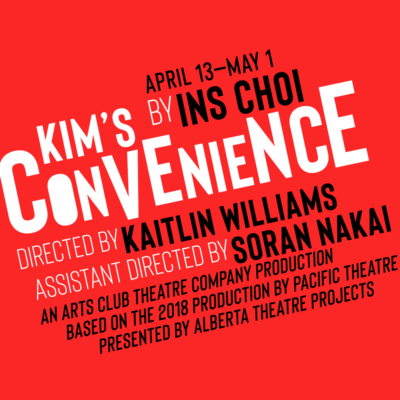 Kim's Convenience

By Ins Choi
An Arts Club Theatre Company Production, Presented by Alberta Theatre Projects
Based on the 2018 production by Pacific Theatre
Directed by Kaitlin Williams, Assistant Directed by Soran Nakai
April 20, 27   |   11:30AM
Grade Recommendation: 8+

Tickets $21
70 mins, 1 act
Proscenium Stage
A Canadian comedy phenomenon! Mr. Kim, a Korean shopkeeper, grapples with both a changing neighbourhood landscape and the chasm between him and his second-generation offspring. This journey of a fractured but loving family forgiving the past, and confronting the future, is a Canadian classic. Ins Choi's hilarious and touching debut play inspired the hit TV show of the same name.
---
Educator Resources
The resources are created to help introduce your students to the play through details about the production, and discussion topics. Links for resources for each show will be added as they become available.
In Wonderland Educator Resources
Post Show Chats
Immediately following the performance, join the artists onstage for an in-depth conversation about the play. Post-show chats are offered after student matinee performances as an opportunity for your students to ask their questions, share their comments, and start the dialogue we hope will continue in your classroom. We make every effort to have a post-show chat after each matinee as long as the run time of the show allows for it.
Free Student Programs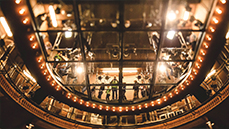 Backstage Tours
Go behind the scenes to meet the makers and marvelous technicians who brought you the production you and your class just witnessed. Alberta Theatre Projects provides information-packed, interactive guided tours of our theatre facility, including the properties and scenic carpentry shop, fly gallery, the lighting grid, the under-stage, the dressing rooms and of course the unique Martha Cohen Theatre itself.*
*Tours are open to all ages and abilities. Tours can be booked prior to or after attending a student matinee.
---
Generously Supported by: