Student Matinees
ATP Student Matinees bring the excitement of live theatre to students from across Calgary. Bringing live theatre professionals and youth together, ATP strives to assist teachers in integrating the arts into their curriculum. ATP brings contemporary, relevant plays to life on the Martha Cohen Theatre stage and is proud to offer schools the opportunity to see our world-class productions through our Student Matinee program.
Audience Advice: Our audience advice is a grade recommendation. We base those on what we deem appropriate for Kindergarten through Grade 12 students however it is always subjective, so if you are concerned about the content of the performance, please inform us before making your request. We will be happy to provide you with more information (though the amount of information we are able to provide is subject to availability when the matinee is a touring presentation or brand new work).
Download Theatre Guidelines, FAQ & Tips
---
The wait is over!
Registration is NOW OPEN for ATP's 2022-2023 Season of Student Matinees
Each Student Matinee takes place at 11:30am in the Martha Cohen Theatre (The F Word student matinee begins at 10:30am) and includes:
Heavily discounted tickets for students
Complimentary chaperone tickets at a 12:1 ratio
An exclusive performance for students and educators
A 15-20 talkback with the artists involved in the show immediately following the show
A resource document with topics, questions, prompts, and a history of the production*
*May also include a copy of the script for educational purposes only. This is not included in world premiere productions
You can also book backstage tours, job shadowing opportunities, and a school visit from the artists at this time.
---
A NOTE ABOUT HEALTH AND SAFETY
ATP keeps a constant eye on evolving health mandates, especially concerning the COVID-19 pandemic. At this time, patrons are not required to provide proof of vaccination and masking is strongly encouraged but not enforced. All of our staff and artists are fully vaccinated and will be masked at all times. If any of the information above changes before your arrival, you will be contacted.
---
BOOKING YOUR STUDENT MATINEE
Fill out the form with your requested dates and numbers.
Upon acceptance, a 20% (non-refundable) deposit is due.
The remaining payment is due 2 weeks before your scheduled performance.
---
Any Questions or Concerns? Please contact:
Vicki Trask, Youth Engagement & Artist Liaison
vtrask@atplive.com
587-441-9637
---
Now on to the season!
COWGIRL UP – October 26, 2022

Written by Anna Chatterton
Co-Created with Meg Braem and Christine Brubaker
Directed by Christine Brubaker
WORLD PREMIERE | NEW CANADIAN PLAY | THRUST STAGE CONFIGURATION
Grade Recommendation: 8+
Tickets: $21/each
Joyce, Effie and BB are cowgirl goddesses on Mount Olympus who lament that the heroines of rodeos past are all but forgotten. It's a cowboy's world. Cocky steer-ropers have stolen the spotlight down on earth for long enough. The goddesses decide to use their considerable supernatural powers to give rise to a cowgirl revolution. When they discover Cassidy Clark, a talented, charismatic loner from Okotoks, they know they have found the barrel racer poised to lead their cause. The three goddesses appear to her one day, offering her all the gifts she will need to earn her first buckle at the Canadian Finals Rodeo championship. We follow Cassidy atop her trusty mare, Starbright, as she rises to the top of the circuit, throwing back shots of Jack Daniels and two-stepping along the way. Cassidy wrestles with her newfound fame, and just how far she will push herself and Starbright in pursuit of their dream.
---
THE JUNGLE BOOK – November 29, December 06, 08, 13, 14, 15
Adapted and Directed by Rohit Chokhani
Based on the books of Rudyard Kipling
WORLD PREMIERE | NEW CANADIAN PLAY | THRUST STAGE CONFIGURATION
Grade Recommendation: K+
Tickets: $21/each
This holiday season, escape into the jungles of India with this vibrant reimagining of the legend of the boy raised by wild animals. Mowgli lives by the law of the jungle, where survival depends not only on strength and courage but on wisdom and reliance on the wolf pack for survival. When a confrontation with a dangerous tiger isolates Mowgli, he is forced to confront the truth: is he a man-cub or a human? Caught between two worlds, with the support of his friends, Mowgli must search for his sense of self in a quest to discover where he truly belongs. Experience this timeless fable where a cast of familiar characters come to life through puppetry, stylized props, masks and movement. People of all ages will delight in this colourful and dynamic adventure that explores the true meaning of family.
---
THE F WORD – February 15, 2023
Co-Created and Performed by Keshia Cheesman & Bianca Miranda
Directed by Donna-Michelle St. Bernard
Presented by Alberta Theatre Projects
A Downstage production in association with Theatre Calgary
WORLD PREMIERE | NEW CANADIAN PLAY | PROSCENIUM STAGE CONFIGURATION
Grade Recommendation: 10+
Tickets: $21/each
FAT. How does that word make you feel? Society tells us to deflect, avoid and distance ourselves from FAT. We're in the midst of a revolution to unearth the deeply ingrained shame, blame and fear associated with fatness. Fairytales, lectures, dance, and song are infused with wild whimsy in The F Word. Creator-performers Keshia Cheesman and Bianca Miranda explore their friendship as two fat women on a journey to self-acceptance and fat liberation. They confront fatphobia, diet culture, and the intersection of fatness with race in this powerful, playfully political pop-art piece.
---
TEENAGE DICK – April 26, 2023
Written by Mike Lew
Directed by Jenna Rodgers
In association with the Shakespeare Company and Hit & Myth Productions
PROSCENIUM STAGE CONFIGURATION
Grade Recommendation: 8+
Tickets: $21/each
The high-stakes tragedy and political drama of Shakespeare's Richard III are transported to the hallways of a contemporary high school in this darkly comedic adaptation. Taunted with the nickname "Dick" and bullied because of his disability, Richard, the play's brilliant, charismatic anti-hero, is determined to have his revenge, and plots a ruthless path to power in a dramatic student council election. Aided by his quick-witted best friend Buck, he seeks to overthrow the bullish star quarterback Eddie to become student council president while charming the most popular girl in school into being his girlfriend. But as he falls deeper into a pattern of manipulation and greed, Richard is faced with an unexpected choice: Is it better to be feared or loved?
---
Educator Resources
The resources are created to help introduce your students to the play through details about the production, and discussion topics. Links for resources for each show will be added as they become available.
Post Show Chats
Immediately following the performance, join the artists onstage for an in-depth conversation about the play. Post-show chats are offered after student matinee performances as an opportunity for your students to ask their questions, share their comments, and start the dialogue we hope will continue in your classroom. We make every effort to have a post-show chat after each matinee as long as the run time of the show allows for it.
Free Student Programs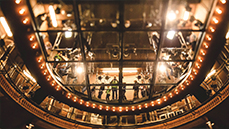 Backstage Tours
Go behind the scenes to meet the makers and marvelous technicians who brought you the production you and your class just witnessed. Alberta Theatre Projects provides information-packed, interactive guided tours of our theatre facility, including the properties and scenic carpentry shop, fly gallery, the lighting grid, the under-stage, the dressing rooms and of course the unique Martha Cohen Theatre itself.*
*Tours are open to all ages and abilities. Tours can be booked prior to or after attending a student matinee.
---
Generously Supported by: