Personal Connections to Charlotte's Web
The wildly talented Calgary-based Actor Nadien Chu is currently performing in The Martha Cohen Theatre, cast in ATP's 2017 Holiday Show Charlotte's Web in three roles: Edith Zuckerman, the Goose of the Zuckerman Farm, and a County Fair Spectator. For her role as an elderly fair spectator alongside Actor Sarah Wheeldon, Chu drew special inspiration from both her childhood connection to the story of Charlotte's Web and a very dear family member:
"When in rehearsal, our director, Laurel Green, asked us to create the characters of the 'Spectators at the Calgary Stampede' (our version of the County Fair from E. B. White's classic tale Charlotte's Web), she asked Actor Sarah Wheeldon and I to create two 'grandmother' characters. Of course, I immediately thought of my own grandmother who is 97 years old and living in the Chinese Seniors Lodge in Edmonton, Alberta. Because my grandmother is so elderly and with being away from her over the holidays, she was very much on my mind. I think I subconsciously wanted to be close to her and so I began to create a loving tribute to her in my 'Spectator at the Calgary Stampede' character.
I have always loved my grandmother's idiosyncrasies… her little sayings, her gestural vocabulary, the way she moves in space and her voice. While in rehearsal, we were often remembering our own first encounters with the story of Charlotte's Web as children. As I looked back, I thought of how wonderful it would have been for me as a young, Asian Canadian to have seen a character like my grandmother in the story when we studied it at school. I would have loved to have seen her at the Calgary Stampede, meeting Wilbur and having a wonderful time.
My Chinese Grandmother character is a creative way for me to celebrate my own Grandmother Chu, to bring her into the story and to have a little part of her with me over the holidays. So, Grandma Chu….this one's for you!"
– Actor Nadien Chu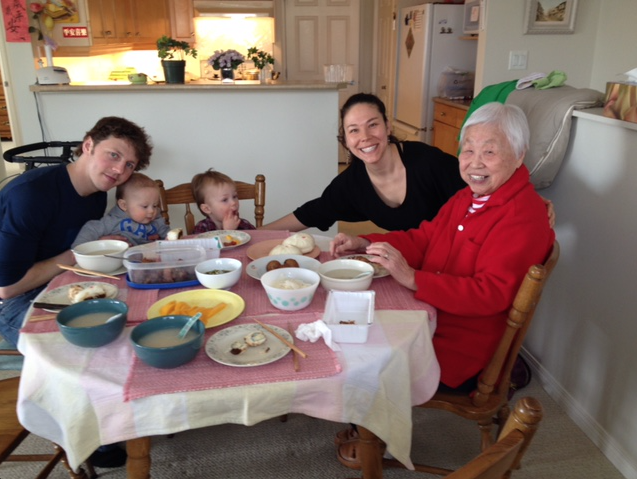 Learn more about ATP's 2017 Holiday Show Charlotte's Web HERE.