Accessible Performances
Stay tuned for information on upcoming accessible performances!
---
HOW TO BUY YOUR TICKETS
Use the promo code: GOODHOST when booking for $25 tickets to our accessible performances.
Online:
Visit the linked pages above and enter the promo code: GOODHOST before check out. Please note that this promo code is not valid for the PC section
See below: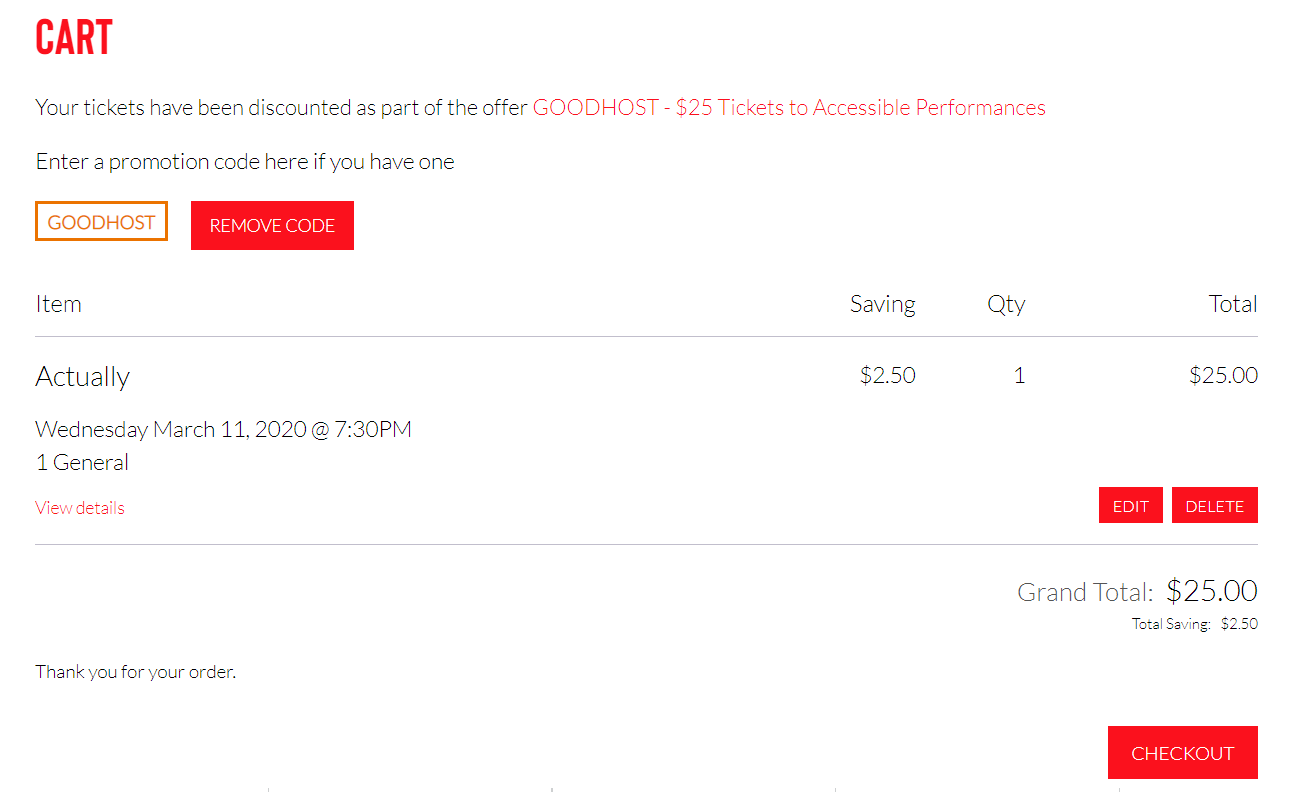 By phone: Contact the Ticket Office at 403-294-7402
In Person: Visit the ATP Ticket Office between the hours of 9:30am-5:00pm OR the Martha Cohen Theatre Box Office on the night of the performance. Box Office opens at 6:30pm.
---
For more information about wheelchair accessible seating and other accessibility features in the Martha Cohen Theatre please click HERE or contact the Ticket Office at 403-294-7402.
---
DEFINITIONS
American Sign Language Interpreted Performances
To provide an engaging experience of a show for deaf, deafened, and hard of hearing audiences, the show is simultaneous interpreted by an American Sign Language (ASL) interpreter.
Audio Described Performances
For blind or visually impaired audience members a narrator will describe the visual elements of the performance in real-time as the action unfolds onstage during a show. This added description is relayed to guests through a pair of headphones.
Relaxed Performances
A relaxed performance is designed to welcome audience members who would benefit from a more relaxed environment in which to enjoy the show. It is developed to address the needs of guests with sensory concerns, autism spectrum disorders, learning disorders, dementia, parents with small children, or anyone for whom the regular theatre experience can be challenging. This show is open to everyone.
Visual Story
A show-specific document intended to prepare audiences attending a Relaxed Performance will  be available prior to coming to the theatre. The Visual Story includes text and pictures that introduces the play through synopsis, character descriptions, running time, and content warnings, as well as orients audiences to the theatre with information about how to get to the theatre, images of the physical building, and answers other accessibility questions.
Touch Tour
A touch tour is an opportunity for tactile guided exploration of the  set, props, and costumes from a show that gives visually impaired guests an added level of understanding and appreciation for the show being presented. The host will also provide a detailed description of the key design elements and a visual description of each of the characters in the play.