This Week's Special Events at ATP
You can join us at ATP all season long for fun and friendly events where audiences and artists meet and mingle to explore the themes of the plays and celebrate the art of live theatre. Plus: all Exchange events are included with the purchase of your ticket! Read on to find out what we have planned for this week's Exchange events.
Tuesday, November 21 – Sunday, November 26 (excluding Wednesday, November 22): CHARLOTTE'S WEB 
Back by popular demand, ATP brings E.B. White's classic children's book about the unlikely friendship between a pig named Wilbur and a spider called Charlotte to the stage this holiday season. The music-filled adaptation follows Wilbur from his beginnings as a scrawny piglet who's spared from becoming pork chops by a young girl named Fern. But as he grows and begins to cost his owners a fortune in feed, it will take help from all his new farmyard friends to save his life again, including the miraculous talents of a very special gray spider. Audience Considerations: Suggested for ages 5+. Contains use of a brief strobe lighting effect. Running Time: Approximately 2 hours (including a 20 minute intermission)
Evening shows begin at 7:30PM on weekdays and 6PM on Saturdays, with a 1:00PM matinee on Saturday and Sunday. GET TICKETS
Tuesday, November 21, 6:30 pm and post-show: TWEET NIGHT, THAT $10 TICKET THING + MEET THE CAST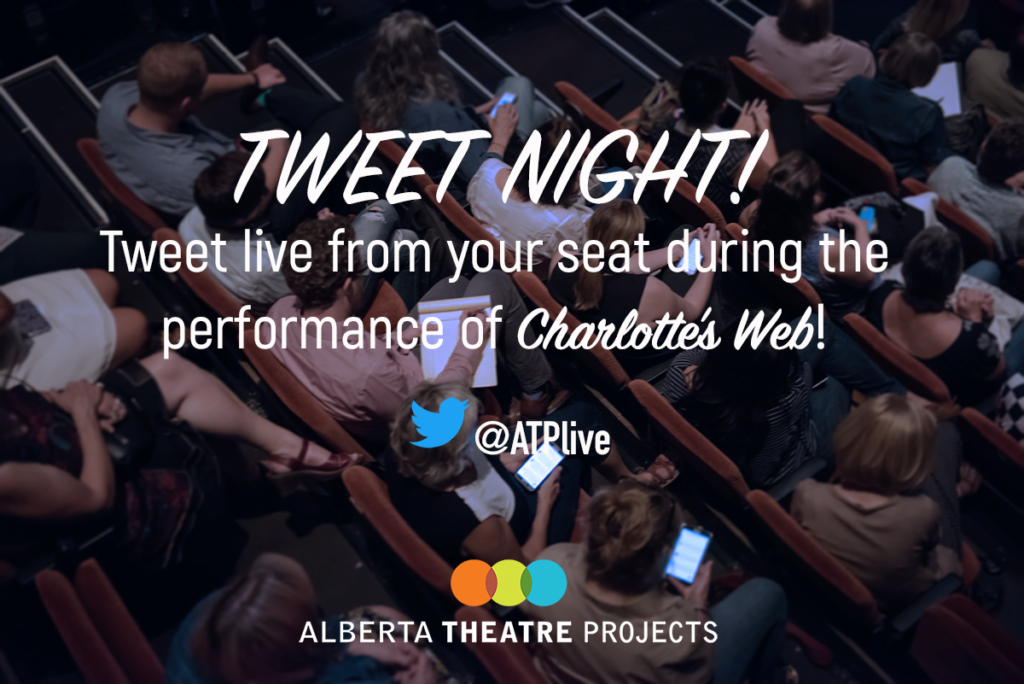 For one night only, audiences and artists tweet live during the performance! Be sure to follow along and use the hashtag #ATPCharlottesWeb: @ATPlive
Also happening on Tuesday is That $10 Ticket Thing! For just $10 students are invited to the hottest student social night in town! Join us before the show at 6:30PM for a VIP cocktail hour with discounted drinks and free snacks. Your $10 ticket also includes a ticket to the show, and a chance to win great door prizes! Be sure to join us after the show for a conversation with the cast of Charlotte's Web. Student ID is required. Click HERE to purchase your $10 ticket! Make sure you enter the promotional code STUDENT at online checkout.
Thursday, November 23, 6:30 pm: PIZZA AND BEER NIGHT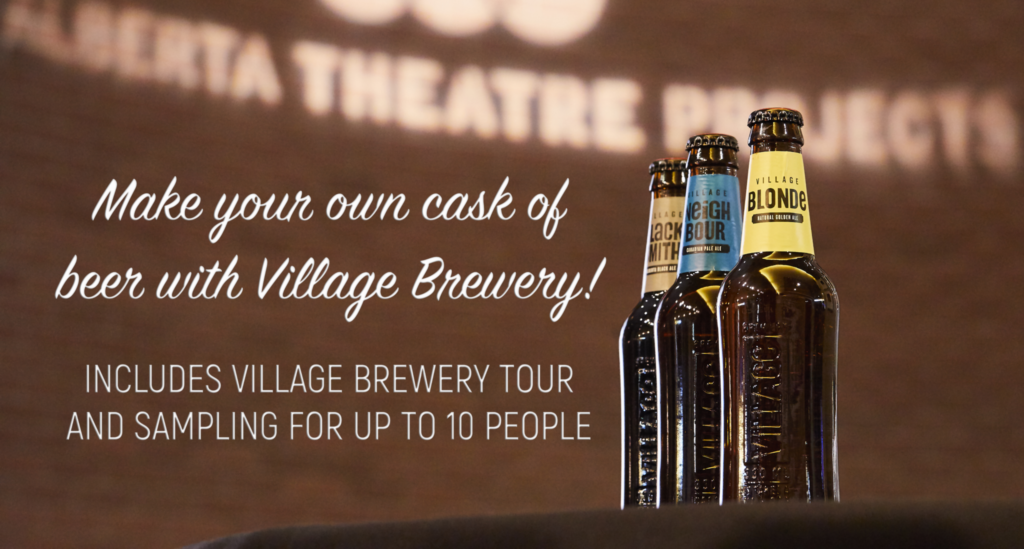 Join us for a conversation with Charlotte's Web Director Laurel Green and Set/Lighting Designer Anton deGroot, enjoy Papa John's Pizza and a beer tasting courtesy of Village Brewery. Plus, those who attend will be entered to win a ten-person Village Brewery tour, tasting, and an opportunity to make your own cask of beer! This event will be hosted by ATP's Artistic Associate Youth Engagement Talore Peterson.
Friday, November 24, post-show: OPENING NIGHT OF CHARLOTTE'S WEB!
Mingle with the artists and talk about the show. A catered post-show reception will be generously provided by Deane House with a complimentary glass of prosecco from our friends at La Marca Prosecco, and a cash bar! Free with ticket.
Sunday, November 25: AUDIO DESCRIBED PERFORMANCE AND TOUCH TOUR
12:00 pm (Touch Tour) and 1:00 pm (Described Performance)
For blind or visually impaired audience members we are providing a special pre-show Touch Tour and Audio Described Performance during the matinee performance of Charlotte's Web!
A touch tour is an opportunity for tactile guided exploration of the set, props, and costumes from the play to give visually impaired guests an added level of understanding and appreciation for the show being presented.
Following the touch tour, the host will provide a detailed description of the key design element and a detailed visual description of each of the characters in the play. This introduction will take place 10 mins prior to the show beginning.
During the show a narrator will describe the visual elements of the performance in real-time as the action unfolds onstage. This added description is relayed to visually impaired guests through a pair of headphones.
18 spaces available for the touch tour and audio described performance. Buy tickets for the touch tour and audio described performance by calling our ticket office at 403-294-7402 or by selecting the "audio described" ticket type on the ticket purchase page.