"Something Old, Something New" for Playwright Louise Casemore
By Lauren Marshall
As part of the 2020 Playwrights Projects, Undressed was the first of three plays to be workshopped and read in front of an audience online. The play is currently in the development phase and is set to receive its World Premiere at Alberta Theatre Projects in March 2021.

The storyline for Undressed centres around a real-time eco-auction for previously loved wedding gowns. Over the course of the show, we encounter different gowns and the people who once wore them. Playwright Louise Casemore was baffled by her own experience of wanting to repurpose her gown. That was when she was struck by the idea that others might be in the same position she found herself in. In 2017, she participated in a performance art series in Edmonton with Mile Zero Dance, an experimental cabaret with artists who receive a 15-minute time slot to do anything they want. She wanted to know what would happen if she opened her gown, preserved in a box, in front of an audience. What she discovered was that this wasn't enough time to even take the dress out. She needed something bigger, with more electricity, which eventually led to a full-length play.
I asked Louise if she discovered anything about herself while writing.
"Yes and no. I was able to unearth feelings and frustrations of what it is to be a woman in the current moment, as well as the stigmatization of divorce, which still exists," Louise explains. There was a realization during the cathartic experience of writing the play. In particular, her growing terror of what is happening to the environment in response to waste that is created. One might assume Undressed is a chronicle of her love story or her broken heart, but it's the less wedding-based themes which became a place of exploration for her.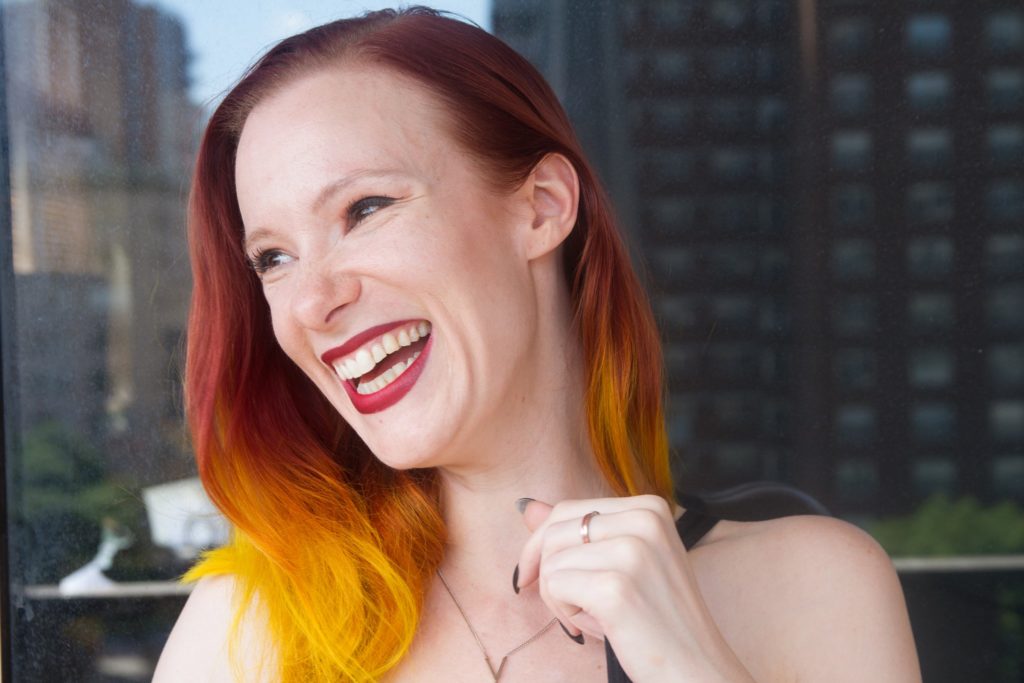 When creating, she felt pressure to capture every type of experience, as the idea of weddings and marriage is universal across cultures. Being the sole performer in the show, she is aware of needing to limit the number of stories that are appropriate for her to embody. Louise explored the idea of a multi cast, but for the sake of efficiency and symbolism, she wants the host to represent everyone else on stage, showing that one woman can be all of these experiences.
I asked her to talk about her process when switching between characters during a performance. She feels like she knows them well because of her extensive research. "After about 3 years of development – and now having to shift into that performer brain, speech and voice have been really helpful," Louise says. "I'm very excited to get into more physical work and rehearsals."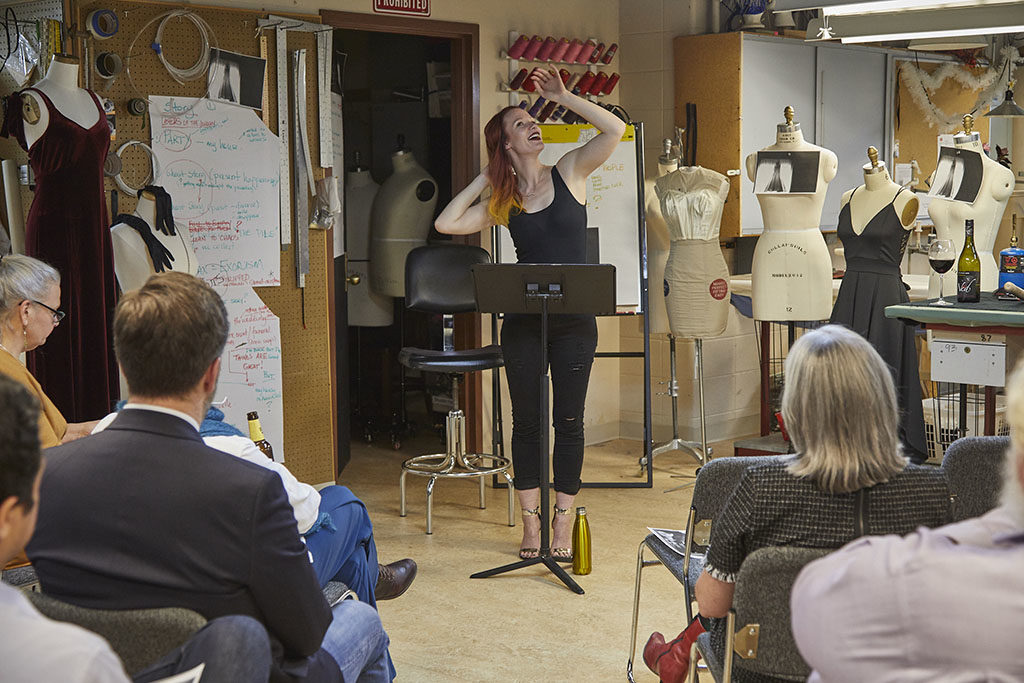 Undressed calls for a significant level of participation from a live audience, which there is no substitute for. But we are living in a peculiar digital moment right now, and the director Jenna Rodgers (who runs Chromatic Theatre and directed Actually at Alberta Theatre Projects last season) is very well versed in how to translate this into a digital experience. As with anything that's a non-traditional scenario, you have to set up conventions. For example, when Helen Knight, a Calgary based actor and writer, was reading stage directions, her camera was turned off, and her participant name on a Zoom call was Stage Directions. There were people standing and cheering for Stage Directions during their last in-person rehearsal, so being able to give life to those things was a really important part of the online workshopping process. It wasn't about trying to fool the audience into thinking that Zoom was where it was supposed to be happening. She wanted to tell the story the way they were planning to tell it on stage. The creative team looked at the idea of substitutions needed in this world, and the pandemic moment, and thought how can we create some sense of community with 200 people in their homes all across the country? This is the essence of the show, and usually of weddings: the idea of a communal experience.
Louise tells me, "It comes down to trusting that the audience is playing along and participating and with us."
"I never expected gathering in a room together would have so much meaning by the time we finally premiere this show. The unbelievable amount of compassion and energy put into creating this experience allows people to gather, not only safely, but warmly, and to capture that sensation and magic. And we'll be ready for them, so I know they'll be ready for us."
---
Lauren Marshall is going into the fourth year of her Drama BFA at the University of Calgary, and will be continuing into education after that. She took a year off after high school to work as a D. MIchael Dobbin Apprentice at Alberta Theatre Projects, so the company holds a special place in her heart. She is very thankful to have this opportunity for meaningful conversations with artists during these hard times. You can see what she's up to in the Calgary theatre scene on her Instagram @whywhyseetheatre.
Top Image: Playwright and performer, Louis Casemore