Sharon Pollock Remembered
On April 22, Canadian theatre lost an absolute titan. Sharon Pollock was a renowned playwright, actor and director; a groundbreaker, mentor, and teacher – her life touched countless others, and shaped the very landscape of Canadian theatre.
Alberta Theatre Projects' Founding Artistic Director Douglas Riske reflected on meeting and working with Sharon Pollock before and during his time at ATP:
---
Sharon Pollock Remembered
By Douglas Riske, Alberta Theatre Projects' Founding Artistic Director
I was introduced to Sharon Pollock as an actress in a Dominion Drama Festival production of The Knack, produced by Joyce Doolittle in Calgary in 1966. I was not in the award-winning production but filled in for James Eberle as he was injured in a car accident during a follow-up tour of the production in Alberta. I had played his character in an Edmonton production, so there needed to be just a few rehearsals before performances in Banff and at the Manitoba Theatre Centre in Winnipeg.
The photo below features Sharon in the only female role, with Bob Haley, Michael Ball and myself as young London adults who clash and commiserate about how to get "the knack" with the opposite sex.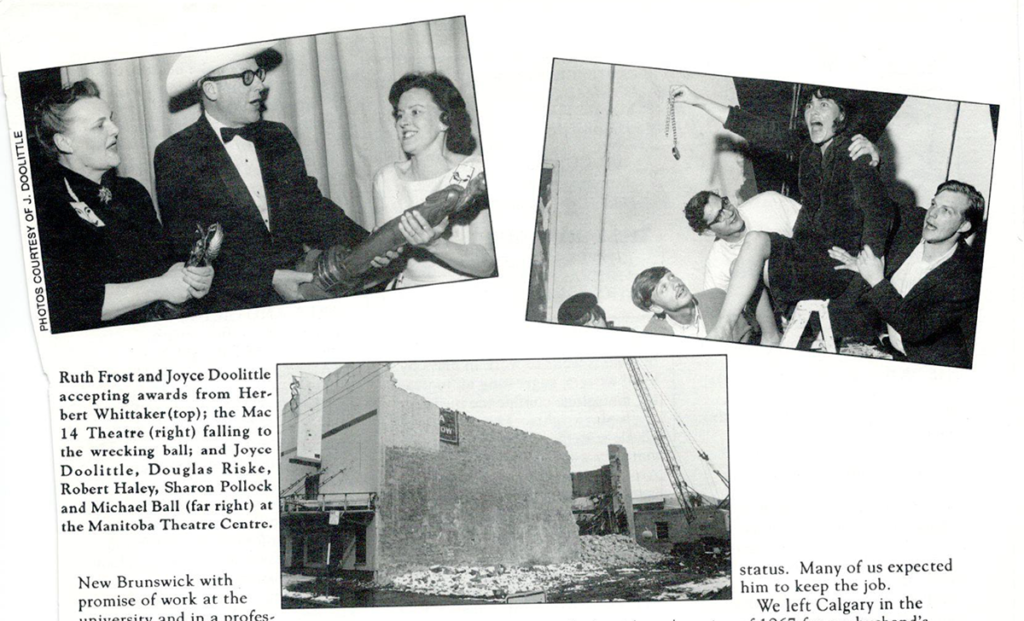 Sharon truly enjoyed this role and picked up the best actress award. The production ran away with awards in all of the other categories – except for Best Director. At the awards ceremony Sharon of course questioned the lack of the director's award for Joyce Doolittle. The answer was "because women can't direct plays."
This was Sharon's commitment, to question and suggest, and actually make change a priority in her life as an actress, director and playwright. Her experience in theatre in New Brunswick prior to making the move to Calgary had already exposed her to live theatre and its power and challenges.
I next connected with Sharon in 1973, the first year of Alberta Theatre Projects at the Banff Centre, where the company had been asked to deliver a Playwrights Colony program over a four-week period with playwrights and actors, primarily from the West. It was well received, and therefore we were asked to develop another program in 1974, but this time with playwrights from across Canada – mainly from Toronto with Tom Hendry, founder of Toronto Free Theatre heading the Colony that year. I connected with Tom in Toronto in the spring, and it was decided that actors and playwrights from across the country would be invited to participate. Sharon was one of those playwrights, as were a number of exciting new playwrights eager to share their work. By this time, there was no question that Sharon was committed to and cared about the work – that she welcomed criticism and was always ready to rationalize her choices while also sharing her ideas and suggestions with her fellow playwrights. She was always outspoken but willing to listen…most of the time.
In 1975 I left the Colony in Tom's hands as Alberta Theatre Projects was developing a summer program for Heritage Park. Tom stayed on until 1976. Sharon did become the head of the program in later years and helped establish the strong and vital program still supported by the Banff Centre.
The Alberta Theatre Projects Playwright-in-Residence program welcomed John Murrell for its first two years, 1976-1978, and the ongoing playwright's development program continued year by year with the growth and quality of work increasing and improving.
In 1978 Sharon became Playwright-in-Residence at Alberta Theatre Projects and almost immediately created two very unusual plays for the company's School Program.
The Wreck of the National Line Car produced February 13 – March 10, 1978 was a unique work that stretched content parameters for a school production. It was challenging and very well received by students and teachers. Alberta Theatre Projects School Program staff worked with teachers before and after the performance, while also providing follow-up materials.
Next, Sharon pushed the envelope with CHAUTAUQUA SPELT E-N-E-R-G-Y – from April 9 – June 1, 1979, with a challenging exploration of what might be considered ahead of its time, given the current issues facing energy.
**It should be noted that the Alberta Theatre Projects program for schools reached thousands of students during the years it was in place and garnered support and enthusiasm from teachers, parents, and of course, students.
**Thank you to Grant Reddick for convincing the school board that support for this work was essential for young people during their learning years. Grant continued to support Alberta Theatre Projects as a fine actor in several memorable roles over the years.
Alberta Theatre Projects staged two major works by Sharon prior to the change in management and the move to the Martha Cohen Theatre in the new Calgary Centre for the Performing Arts.
From January 12-28, 1979, Alberta Theatre Projects produced the Komagata Maru Incident, which had been originally produced in 1976 in Vancouver.
It was described as follows: In May 1914, Canadian newspapers announce the arrival of a boatload of Indian immigrants in Vancouver Harbour. Passengers are refused permission to land despite right-of- entry to Canada guaranteed by India's membership in the British Empire – a powerful and important work.
I was very proud of this production in terms of the fine actors, the innovative design, and the impact the play had on audiences. Sharon helped us through some rehearsals, explaining her intentions and encouraging an approach that would make a difference.
Then from October 28 – November 16, 1980, came Generations. This was a family drama about land, place and relationships – an ode to farmers everywhere. Set on the Alberta prairies, it touched our communities and our families.
Generations did begin as a radio play…at that time, CBC radio drama actually supported many actors and playwrights in Calgary! This final version was important given the changes in family relationships and farming communities in Alberta. It was about the impact of change on a family and its relationships, and I believe it came from Sharon's deep commitment to family, as does much of her work.
Sharon's work and her passion was and remains integral to the growth and the continuing role of live theatre in Calgary and across Canada.
Sharon challenged the norm and the expected.
Her work will be shared and valued for years to come.