Thursday, December 8 was That $20 Ticket Thing for The Jungle Book! Following every $20 Ticket Thing performance, cast and/or creative team members from the production participate in a Q&A with the audience!
We were thrilled to have Lauren Brady (Rama/Ensemble), Veenesh Dubois (Raksha/Kaa/Prema/Ensemble), Duval Lang (Sher Khan/Rudy/Ensemble) and Shrina Patel (Toomai/Geeta/Ensemble/Dance Choreography/Dance Captain) stick around after the show and provide some of their insights into the show, and offer a behind-the-scenes look at The Jungle Book!
*Contains light spoilers for The Jungle Book
---
Q: What was the process like?
DUVAL LANG – We started rehearsals on the first of November. We had a script that had a lot of the action plotted out – we spent a lot of time working on the action and putting the story together. And then incorporating the puppets. We had 4 weeks of rehearsal, and then one in the theatre to incorporate lights and sound and the set.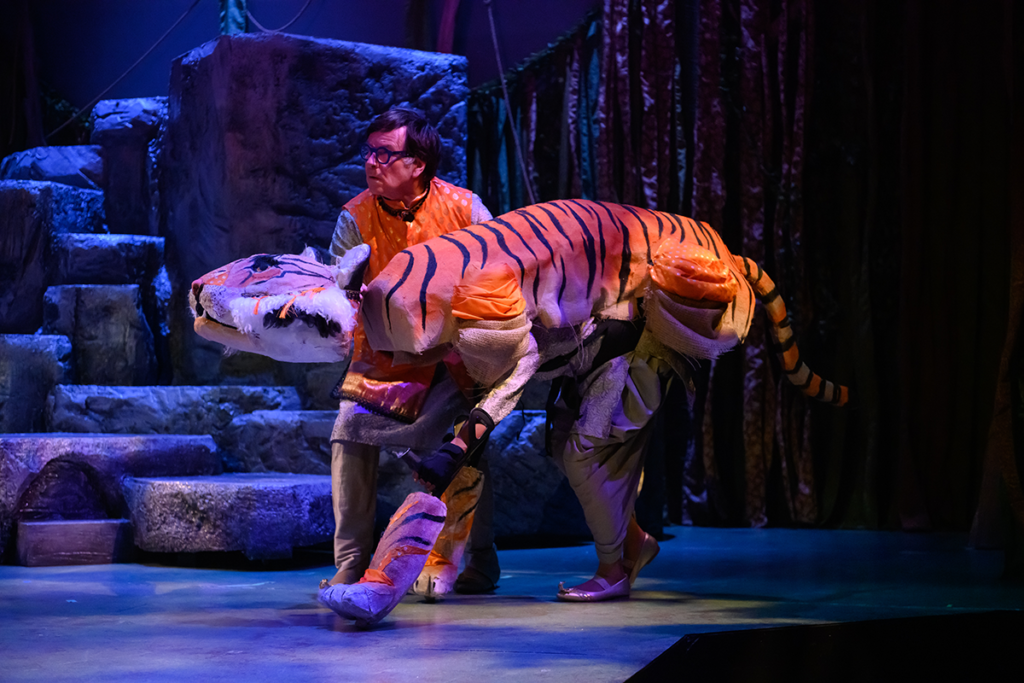 ---
Q: Do you have any tips for remembering lines?
LAUREN BRADY – It's really a skill and something you develop over time. But something that helps me quite a bit is reading it, and looking away to see how much I that I recall, and then going back to it. Or sometimes, turning it into a song. Or finding a fun way to do it.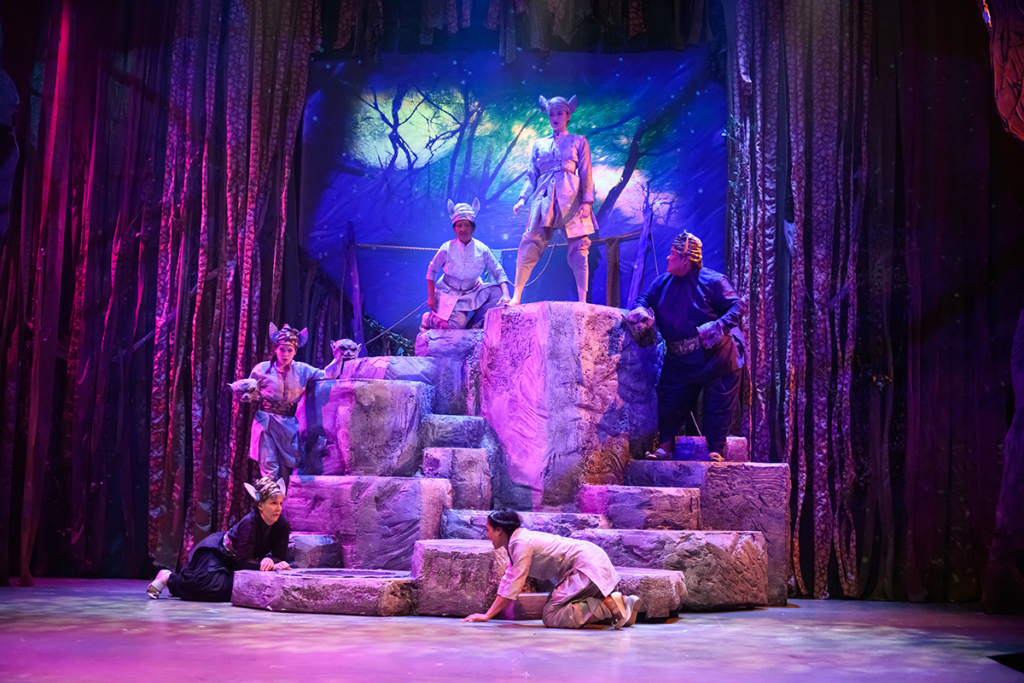 ---
Q: Is it hard to get your costume changes done so fast?
VEENESH DUBOIS – We have an incredible team that stands by in the back – what you see up front is only half of it – we have a huge team in the back that helps us to get in and out of costumes. They place our costumes at every one of our entrances and exits, our props are all laid out; so, it's like a well-oiled machine. We get a lot of help.
---
Q: Is it nerve-wracking to perform?
SHRINA PATEL – I feel like, if I'm not nervous, I'm not going to do a good job. I actually use my nervous energy, and I put it into my show and into my characters. So, yes, I'm nervous every time I do this – and it's not a bad thing to be nervous – it's all about how you use that energy.
---
Q: What was the song you used for the Kaa hypnotism dance scene?
PATEL – All of our music was actually created and composed by a music producer named Richard Feren, from Toronto. And I worked with Richard to create a soundscape that aligned with South Asian music – specifically from the region of India we're focusing on. We were taking sounds that are found in South Asian music, and pulling them and intertwining them with kind of a jungle dub-step – is what we were going for.
So, we had a little bit of dance – I choreographed that piece – and so I wanted something that was really bass-y and earthy so it sounded like a snake was going through the jungle – but still dance-y so we can pick up the energy for the monkeys. It was a real treat to work with Richard to compose those pieces.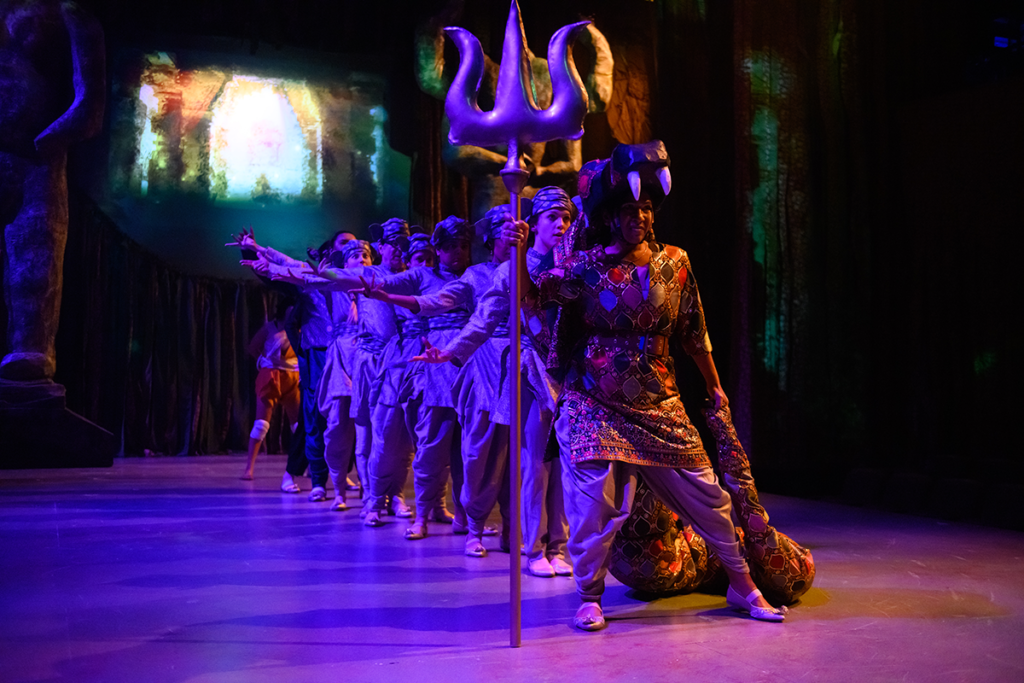 ---
Q: How did you get the trap doors work on the stage? And how do thing go up and down on the stage?
LANG: When I'm looking up, it goes wayyyyyyy up – like, about another 40 feet or so. So, you could put your house in here, and the roof wouldn't even touch the top of the ceiling. There's lots of ropes on this side of the stage [stage left], and the stage crew bring stuff up and down in a safe fashion, and [because of the pulley system] it only takes one person to pull the ropes. And all these [set pieces and screens] that you see can come down and go back up into the heavens!
We also have a trap door, and all underneath this stage is an area where actors can prepare themselves to come up through the trap. I was in a play [here] once and there was an elevator, so I stood underneath the trap, and the door opened, and I rose up on the elevator. So, there's lots of interesting stuff that you don't see that's back here, and is part of the theatre magic that we offer to you.
---
Q: There is a substantial section of the show which is in Hindi – how was that element introduced into the show?
DUBOIS – Rohit Chokhani, who adapted the script, wanted a South Asian aspect in the show and to bring that village aspect into the show. Rudyard Kipling originally [had the books take place] in India.
Speaking the languages – he wrote it a certain way – I'm not from India, I'm from a village in Fiji, and I speak a different dialect, so learning this was completely different for me.
PATEL – Rohit's vision was really to give this play a South Asian voice… to really put the South Asian gaze in Jungle Book – it's set in India, it does have that authenticity. And so I think Hindi was a really big part of Act II, and I think that needs to be a new adaptation into theatre right now, because it does bring so many different audiences out, and also allows people to hear languages of the world, and that's a really fun part. To speak Hindi, I don't get to do that very often in a play, and that was really fun for a lot of us. I know Vee (Veenesh Dubois) and I would practise backstage and on lunch breaks, just speaking in Hindi for fun. It added a different dimension to the theatre experience for all of us.
---
Q: Did you have to learn to speak Hindi, or did you already know Hindi?
DUBOIS – I know a dialect of it, but my dialect is not what I was speaking; my dialect is very slang, and you would never understand what I'm saying if I was speaking with you in what I learned in Fiji. So, when I came onto this project, I got given the script and I was like, "Gulp." It took a lot of time for me to get those words and to turn my tongue that way. Yeah, it took time.
---
Q: How did you learn the dialect? What was the process?
DUBOIS – I just followed the script, and I also watched a lot of Bollywood movies – because that dialect is often similar. I had done another show back in Vancouver, which was for Bard on the Beach, and predominantly, this was the language that was spoken, and I had pages and pages of dialogue for that, so I kept a little bit of that, and I brought that into this production. It's just repetition, repetition; finding out what the word means, and to bring life to that word.
PATEL – I also don't speak Hindi as my first language. I learned Hindi through watching Bollywood movies, and having conversations with my colleagues.
---
Q: How long did it take you to learn Hindi?
DUBOIS – I grew up speaking a version of what you heard tonight. I spoke it as a child, and I never really let it go because it's just part of who I am – and my parents wouldn't let us!
PATEL – I learned it when I was very young. We would all sit down as a family and watch Bollywood movies – and this was before they had subtitles, so in order for me to understand what was happening, I had to learn the language, so I kind of taught myself at around 7, 8 years old and just started picking up words and then I would force people in my family to speak with me in Hindi – and that's how I learned. I just kept practising and practising – and then we got subtitles! And it made life very easy.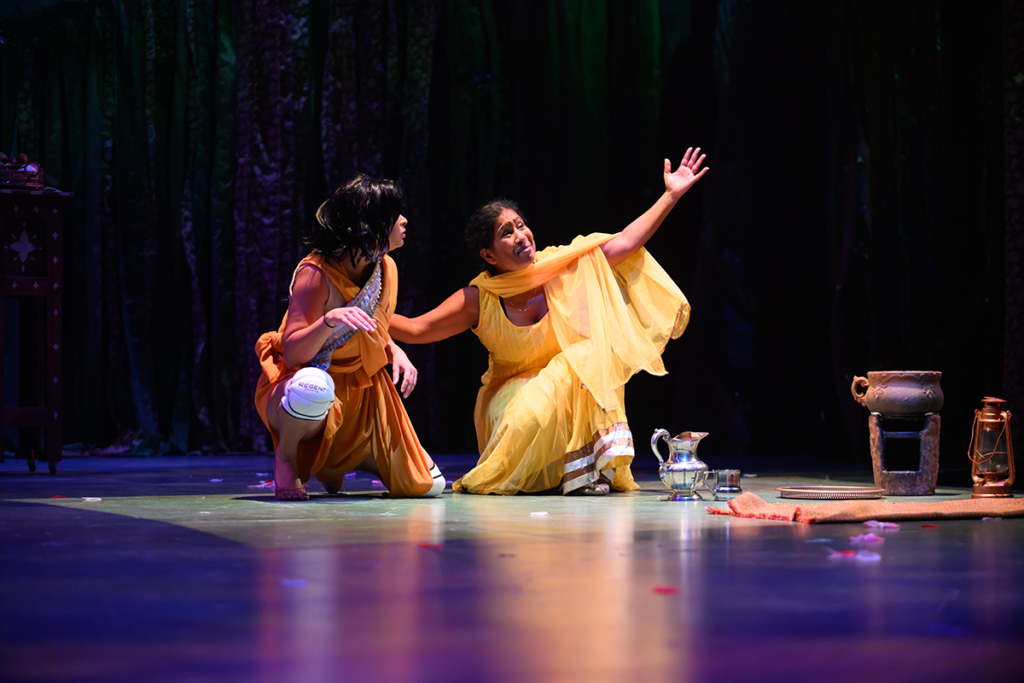 ---
Q: Is it hard to incorporate props? Do you have any advice for my friend who is going to be in a play at school?
BRADY – We have a lot of puppets in this show, and we were very grateful to get puppet coaching along the way through out puppet designer, Andrew Cooper. We had a couple of puppet workshops learning how to bring breath into an object, and how can you make an object feel something and also make others feel something – that was really helpful.
And to help your friend who's in a play, I would say… Feel it all, embrace it all; have so much fun, and PLAY!
---
Q: What's it like performing on a Thrust stage?
DUBOIS – I hadn't worked on a thrust stage for a long time, so the stairs got to be a bit of an issue. Especially bringing Kaa's big body up!
LANG – It's a challenge because you have to be aware of the audience when you're on the Thrust. Your back tends to play towards the audience more than your face, and so you have to position yourself accordingly. We use areas where there isn't audience behind us to position ourselves a great deal. That kind of opens us up so that the vast majority of the audience can see and hear us better. So, that's the challenge, both as an actor and a director, on a Thrust configuration like this.
---
Q: How long have you been acting?
PATEL – My roots are a little different. I started off being a dance choreographer, and I told stories through dance. And then I had this opportunity to be in The Jungle Book, and this is actually my theatre debut!
BRADY – I also grew up as a dancer. And I started doing this about 4 years ago – but I always loved playing growing up – so I consider myself a player since I was around 4 years old!
DUBOIS – I came into acting a little later in life; I became a mom first. I always wanted to be an actor, but wasn't able to pursue my dream until one day, I decided, "That's it, I'm going to theatre school!" So, I've been acting for about 25 years now. And love every minute of it and to be able to do this for a living is amazing!
LANG – I've been doing this for a long time. 25 years, maybe? 25 times 2. I enjoy, very much, what I do, and look forward to doing more of it.
---
Want to get in on these Q&A talkbacks? Join us for the Feb 14 performance of The F Word, the March 14 performance of Bombay Black, and the April 25 performance of Teenage Dick.
You don't have to be a student to attend any of these performances, but students can see the show for just $20!