Finding your inner bad guy with the White Witch and Fenris Ulf
By Aaron Chatha
To get into character as Fenris Ulf, actor David Sklar spent a day living among actual wolves at the wolf sanctuary outside of Calgary.
"As I drove up I thought about what could go wrong – because they take us into the middle of them," laughed Sklar.
Fenris Ulf is the captain of the White Witch's Secret Police, and an enemy to the peaceful creatures of Narnia. Together, David Sklar and Brianna Johnston, who plays the Witch, are the root of evil in Narnia – and some of the most dastardly characters to ever visit the Alberta Theatre Projects stage.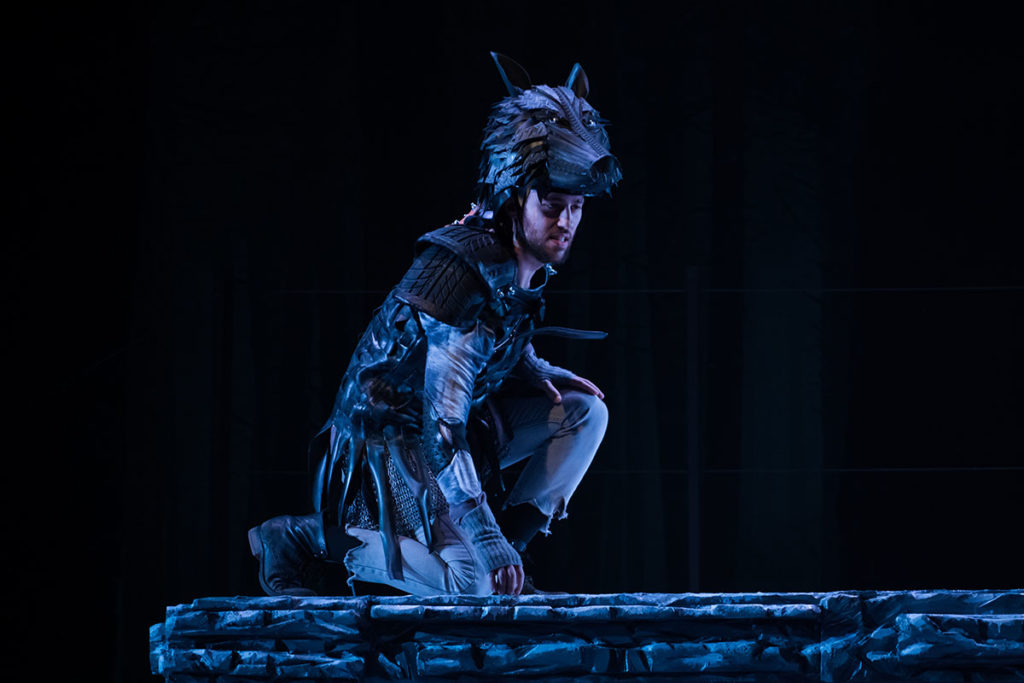 For this production of The Lion, the Witch and the Wardrobe, Sklar walked a fine balance between human and wolf in his movement.
He spent his time in the sanctuary directly interacting with the animals – feeding, petting them, and observing how they interact with their environment.
"What I found out is wolves are more scared of humans than we should be scared of them," Sklar explained. "Wolves tend to feel very suspicious of humans and they view us as a predator, so they're only going to come close to humans if we have food and we're very calm."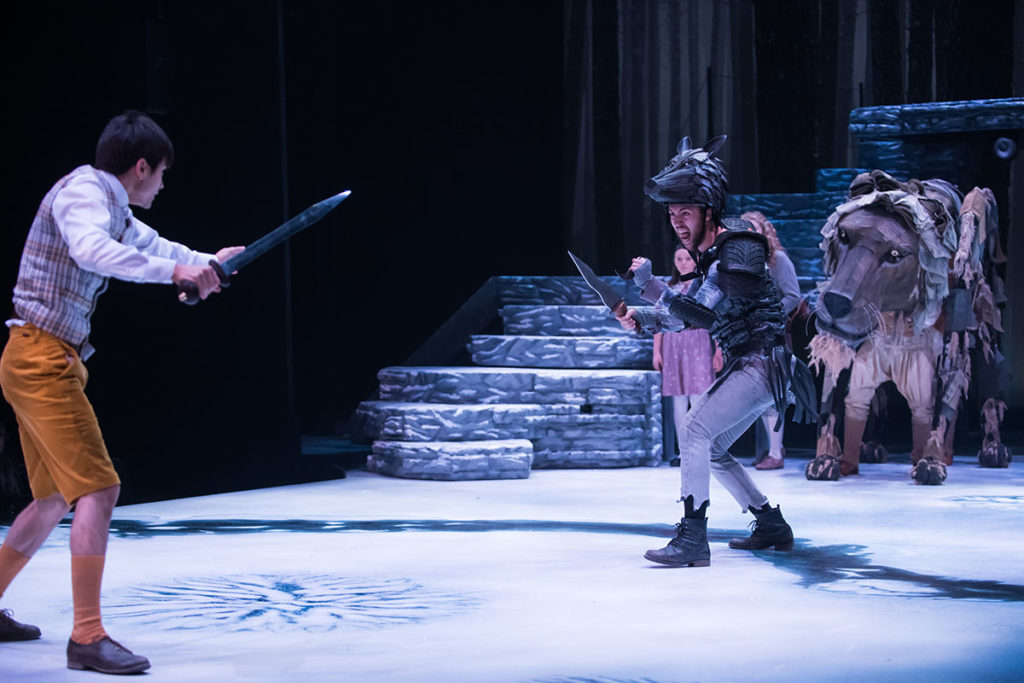 This inherent cautiousness, combined with a fearsome appetite, evolved to a fearsome, hunched over performance by Sklar as he pops from location to location on stage, snarling and ready for a fight.
But there's more than one way to play evil – as evidenced by Johnston's upright and regal take on the White Witch.
"It's easy to think sometimes that regal translates to cold, or removed or reserved," Johnston said. "I think playing into that has been a fun. I'm sitting back here, and I'm ready to murder you at any moment, because I truly don't care about you, because I don't have to, because I'm above you."
The Witch also moves in a very different way – her attacks come from her wand, and are much more calculated. Others do the grunt work for her, and she's not afraid to punish insubordination.
Although The Lion, the Witch and the Wardrobe is a family-friendly show, the script and Johnston's performance aren't afraid to lean into the nastiness. This Witch still aims to kill children, turn friendly animals to stone and let an eternal winter claim the land of Narnia.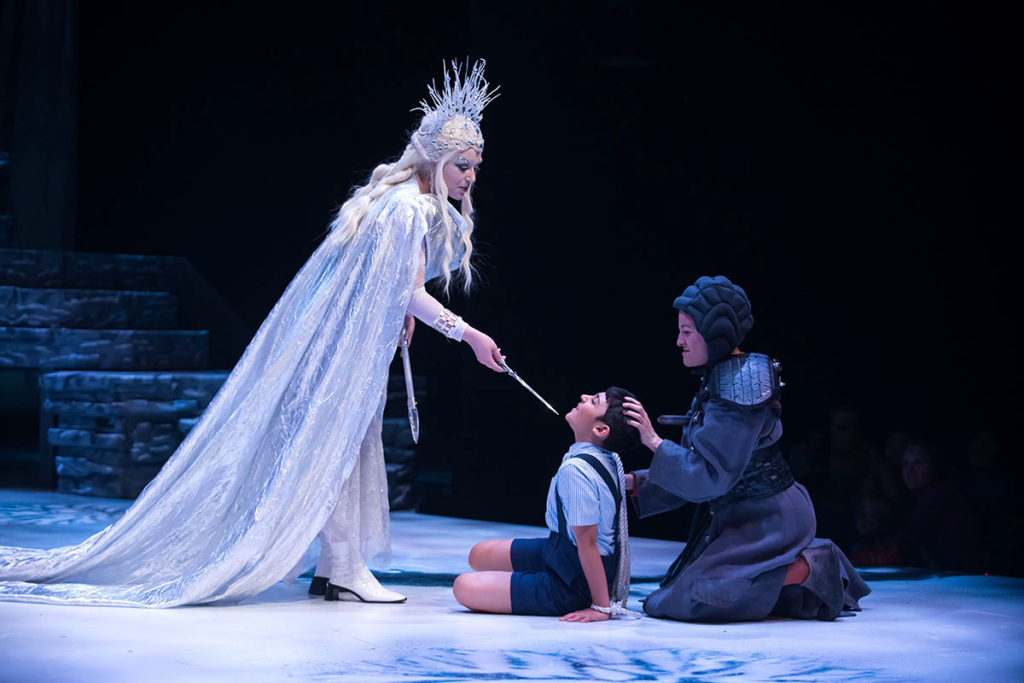 "We talked early on (in rehearsals) about the ability for kids to accept more than we think they can," she explained. "Part of the beauty of Narnia is that it's such a cool canvas for the imagination. I think you can put these really big people into that world, because kids' imaginations will fill in the rest to make that feasible."
There's still a comedy to the performances as well. The trick is finding a balance – it's about what's appropriate to the scene, when you want the audience to reel back and when you want them to cheer for the good guys.
"We don't want to scare kids and make them cry, we want them to have a good time – but maybe feel a little frightened when Fenris comes on stage," Sklar smirked.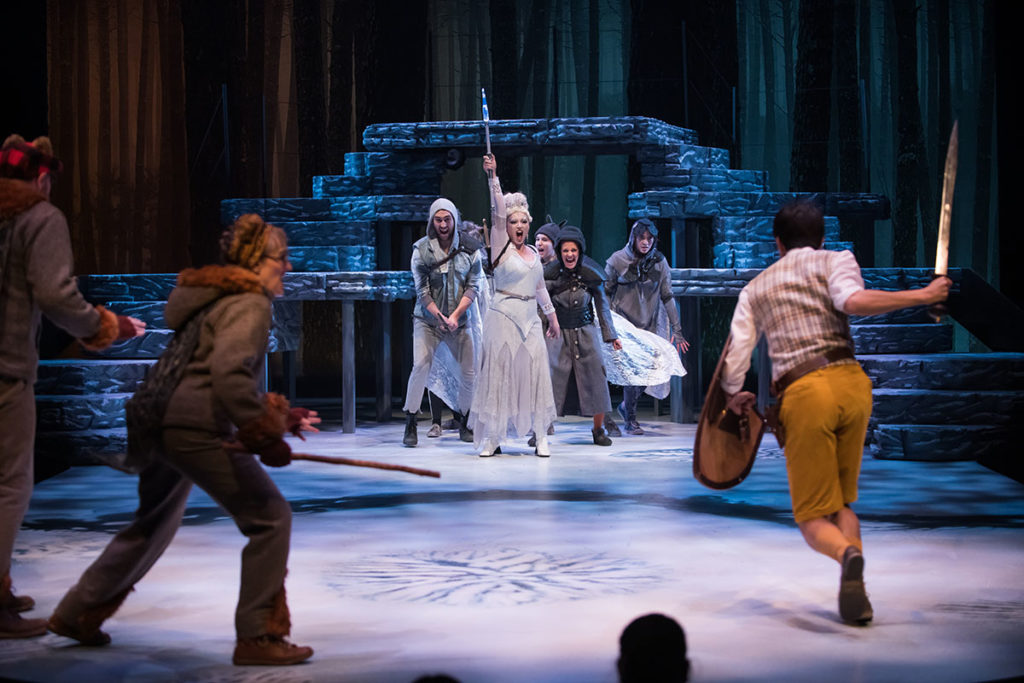 The real joy of having a good bad guy is making the audience cheer when they fall, which is at the heart of the story, which has been in publication for nearly 70 years.
"I think it's really popular because it has a very direct message of good versus evil, fighting for what you believe in and standing up for what is right when everything is going wrong," Sklar said. "Which I think really appeals, not just to kids, but to adults as well."
---
The Lion, the Witch and the Wardrobe runs from November 19 – December 29 at the Martha Cohen Theatre. Join the adventure today and get your tickets at here.
Top photo: Brianna Johnston and David Sklar in The Lion, the Witch and the Wardrobe. Photos by Benjamin Laird. Set/Costume Design by Hanne Loosen. Lighting Design by Siobhán Sleath.