This Saturday, join ATP in supporting Humboldt
Like so many others, on Friday, April 6th Alberta Theatre Projects was rocked by the news of the tragedy involving the Humboldt Broncos hockey team.

On the same night, we celebrated the world premiere of GLORY by Tracey Power – a show that celebrates the sport of hockey and its central place in Canadian culture as it follows the story of 4 young friends who go on to become pioneers of Canadian women's hockey.
As details of the tragedy unfolded over the weekend, our cast and creative team dedicated their performance on Saturday, April 7th to the community of Humboldt, and those affected by the events.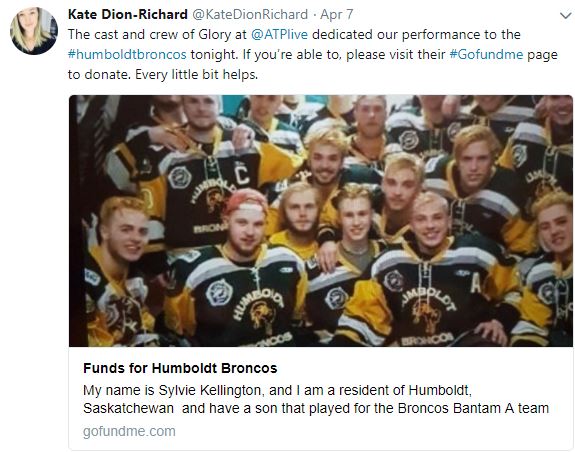 But this week as people around the world joined together, putting hockey sticks on their porches or donning jerseys to show their collective heartbreak and solidarity with the families and communities forever changed by the tragedy, it's become clear that the show has taken on a deeper meaning for audiences in the context of this momentous loss. Not only does it celebrate the glory of our national sport and those who play it, but also the strength and resilience of the communities that are created around it.
In support of this hockey community we are connected to by the story we are so proud to be sharing from our stage, Alberta Theatre Projects will be donating the proceeds from the 2:00 pm matinee performance of GLORY on Saturday, April 14 to the Humboldt GoFundMe campaign.
Alberta Theatre Projects and the cast and company of GLORY send our deepest sympathies, love, and support to the Humboldt community. Those who lost their lives, lost loved ones, and everyone who has been affected by this tragedy are in our thoughts.