Peter and Wendy in a Virtual Neverland with Playwright Andrew Scanlon
By Lauren Marshall
As part of Playwrights Projects 2020, Peter Pan was the last of three plays to be workshopped and read in front of an audience online. The play is currently in the development phase and is set to receive its World Premiere at Alberta Theatre Projects in 2021.
There seems to be a push in the media that is aimed at kids, in this day and age, towards growing up as fast as possible and exploring adulthood. The story of Peter Pan is a classic fantasy adventure, which keeps reminding us of the virtues of maintaining one's sense of childhood. Andrew Scanlon, a playwright and performer, has adapted the Victorian novel into a play which speaks to more modern ideals. During the workshopping process he was receptive to the actors' comments and thoughts on what the core of the story is, and how they should tell it respectively and truthfully. This involved making some major adjustments to the original work, which he was not afraid to do.
Andrew explains that "once you decide that anything is possible in a fantasy world, the options just become sort of limitless."
One of these major changes was the injection of another essential female voice in the play, by creating the character of Captain Jane Hook. Andrew is also experimenting with the genders of the Lost Kids, previously the Lost Boys.
"This is one of the ways we can tell this story in our own voice," Andrew says. "What I hope is that when families come, they recognize characters on stage that they know in their own lives."
The first stages of adapting began a year and a half ago. There are a lot of descriptive, atmospheric passages in the book, so Andrew went through and pulled out any playable actions, and used those as building blocks for the re-telling of the story. Following that, the script went through this development workshop, which is always a bit of an inflection point in a play's journey, because actors are breathing life into it for the first time. It's instructive, and it also builds in a talented test group who can respond authentically.
During the Playwrights Projects workshop, the actors for the reading of Peter Pan only had three rehearsals and even received an updated script the day of the performance. Andrew felt that these fresh perspectives provided him with new outlooks on things he had taken for granted, or not thought of for a while.
Part of this test group were the two actors who played brother and sister in Alberta Theatre Projects' The Lion, the Witch and the Wardrobe last holiday season. Being very compatible artists and both having previous experience with the company, I asked Daniel Fong, who plays Peter, and Anna Dalgleish, who plays Wendy, a few questions about their time working on this show. They have both re-watched the movies, and deepened their understanding of who their characters are.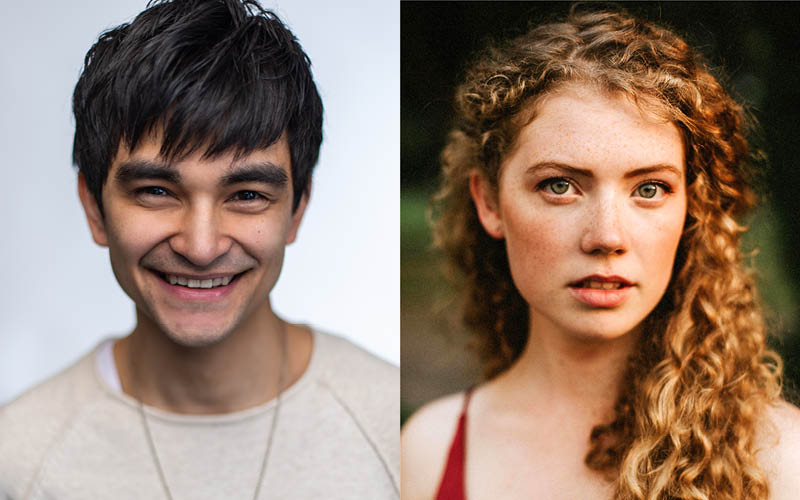 "[Peter Pan] was so comfortable and full of child-like vulnerability… I think getting to explore that is really helping me as a performer to shed some anxiety," explained Daniel. "It's a very freeing way to approach your work."
Something Anna loves about Wendy is her wide embrace of adventure. "This flying man child shows up at her window with a fairy and a shadow unattached from his body, and she just dives right in!" she tells me. "I also appreciate that Wendy can say 'Thank you for sharing this world with me, but I belong in my own world with my family.' I would want to stay in Neverland forever, so I find going home to be a fascinating choice for her."
We talked about the challenges of embodying these characters and connecting with others while using an online platform to perform.
Anna mentioned that listening became the key to a successful performance, even more so than in person. "You don't have eye contact or physical cues, so it came down to hanging on the other actors' every word."
Daniel found that using Zoom presented an opportunity for creativity, since they were not used to working in that way. "It provided outlets and ways to deal with unusual situations."
Andrew discovered that during this unique creative process you have to listen harder, look a bit closer, and take nothing for granted. "Everyone has to be more explicit with what their feelings and insights are."
Some things to keep in mind before you see the play on stage: this is an invitation to experience the story you know and love, but through a modern re-telling. There will be a few things out of left field, and some contemporary twists. The whole team is working on this grand adventure full of heart. They hope that when it hits the stage, it can help ease everyone back into the theatre and the kinds of stories that need to be told. At the same time, in revisiting such a well-known and well-loved story, Anna's heart swells at the idea that maybe some people come knowing nothing. That no one has heard of Peter Pan until he flies through the window.
On that note, she and Daniel are pretty excited to get rigged up and fly around the Martha Cohen Theatre, something they have both been dreaming of. "You have to have those secret dreams in your heart because they absolutely can come true," Anna said.
---
Lauren Marshall is going into the fourth year of her Drama BFA at the University of Calgary, and will be continuing into education after that. She took a year off after highschool to work as a D. MIchael Dobbin Apprentice at ATP, so the company holds a special place in her heart. She is very thankful to have this opportunity for meaningful conversations with artists during these hard times. You can see what she's up to in the Calgary theatre scene on her Instagram @whywhyseetheatre.
Top Image: Playwright Andrew Scanlon