Alberta Theatre Projects Leadership Team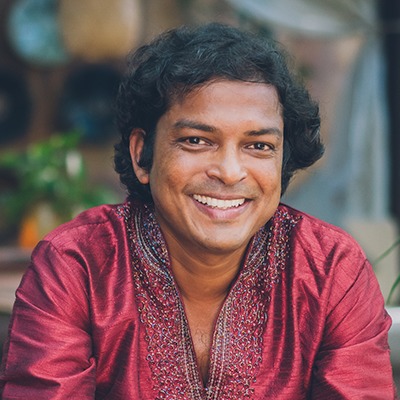 Rohit Chokhani – Artistic & Executive Director
Rohit Chokhani is a Jessie Richardson Theatre Award-winning arts curator, director and executive leader. Rohit was awarded the prestigious Vancouver NOW Representation and Inclusion Award in 2018. He is also the recipient of the Jessie Richardson Theatre Award in the Large Theatre Category for Significant Artistic Achievement (2017) and the recipient of the Shiamak Vancouver Community Award (by Bollywood star/choreographer Shiamak Davar) in recognition of outstanding achievement in the field of Entertainment and Theatre Arts (2017).
Chokhani is currently the Artistic & Executive Director with Alberta Theatre Projects (Calgary) and has held leadership roles with numerous organizations, including the Vancouver Fringe Festival, Touchstone Theatre, Urban Ink Productions, and Diwali Fest and South Asian Arts Society.  He founded Diwali in B.C, Project SAT (South Asian Theatre), co-created the Monsoon Festival of Performing Arts and was a Producer-in-Residence at the National Arts Centre – English Theatre.  Throughout the past decade, Rohit has been involved in over 35 different theatre productions, many of which were works featuring IBPOC theatre-makers. His curatorial work has been presented at leading institutions such as The Cultch in Vancouver (for five different seasons) and with organizations in Nanaimo (Crimson Coast Society), Cranbrook (Key City Theatre) and Vernon (Vernon & District Performing Arts Centre).
Chokhani, who is the 2020 Finalist for Crow Theatre's RBC Rising Star Director Prize, has completed five seasons at Bard on the Beach in numerous different capacities and is the co-creator / co-director of All's Well That Ends Well which received four Jessie Richardson Theatre Award nominations including the Critics' Choice Innovation Award nomination. Chokhani's reimagination of Anosh Irani's Bombay Black was picked as one of the top 20 shows on Vancouver stages in 2017 and won the Pick of the Fringe Award at the Vancouver Fringe Festival. Rohit's directorial work has spanned numerous leading Canadian institutions such as Bard on the Beach, Firehall Arts Centre, Evergreen Cultural Centre, b current performing arts, TheatreOne, Vancouver Fringe Festival and Theatre Calgary.
Before arriving in Canada, Rohit kick-started his artistic career in the world of Digital Entertainment.  He worked for Foundation 9 entertainment and its subsidiaries in the United States, managing multi-cultural multi-lingual teams spread across the globe including China, India & Canada. He worked with numerous well-known clients such as FOX, Pixar, Disney, Nickelodeon, and Majesco.  He led digital products for popular IPs associated with the animated movie Alvin and the Chipmunks: The Squeakquel and animated television shows such as Dora the Explorer and Sponge Bob Square Pants.
Rohit serves as a board member for the Professional Association of Canadian Theatre (PACT) and has served as a board member for the BC Alliance for arts and culture & NOW Theatre, and has contributed his passionate voice to numerous national and international industry panels.  Rohit grew up in Bombay (Mumbai), home to Bollywood, the centre of the Indian subcontinent's vibrant performing arts industry. He speaks four different languages and comes from the Maratha & Marwari lineage of India, which is historically rooted in oral traditions and art forms. Rohit is highly passionate about making performing arts equitable and sustainable by providing representation for the unrepresented. He is delighted to make Calgary, Alberta his new home and serve the unique mandate and mission of Alberta Theatre projects as a part of the Arts Commons Community.
---
Claudina Morgada – General Manager
Bio to come
---
Marcie Januska – Producer
Marcie Januska has been working as an arts administrator and stage manager for over 25 years. Prior to becoming the Producer at Alberta Theatre Projects, she held positions at The Coal Mine Theatre (General Manager) and Spontaneous Theatre/Northan Industries (Co-Producer).  She is the co-founder and Producer at reWork Productions (reWorkproductions.com), and has also worked in a producer/associate position for Theatre Direct, Eldritch Theatre, Appledore Productions, Coal Mine Theatre, and fu-GEN Theatre.  She has held administrative positions at Banff Centre's opera training program, Vancouver Opera, the Wee Festival and Calgary International Children's Festival. As a stage manager, she worked on over 150 shows, including over 50 new plays, with companies including Studio 180 Theatre, Necessary Angel, Nightwood Theatre, Modern Times Stage, Tarragon Theatre, Canadian Stage, Red Sky, Crow's Theatre, Signal Theatre, Small Wooden Shoe, ATP, Vertigo Theatre, Theatre Calgary, and Lunchbox Theatre.  She has worked as a mentor to emerging stage managers and arts administrators throughout her career, most recently at the National Theatre School of Canada, her alma mater.
---