Subscription Renewal
RENEWING YOUR SUBSCRIPTION
The 2023-24 2-Play Subscription Package includes The Black Bonspiel of Wullie MacCrimmon and The Birds and the Bees. Tickets to Special Presentations Made in Italy and Selma Burke are sold separately.
---
ONLINE:
You can renew online by signing into your account HERE and following the steps below:
STEP ONE: LOG IN TO YOUR ACCOUNT
Log in to your account and click on the 'Fixed Subscriptions' tab (pictured below).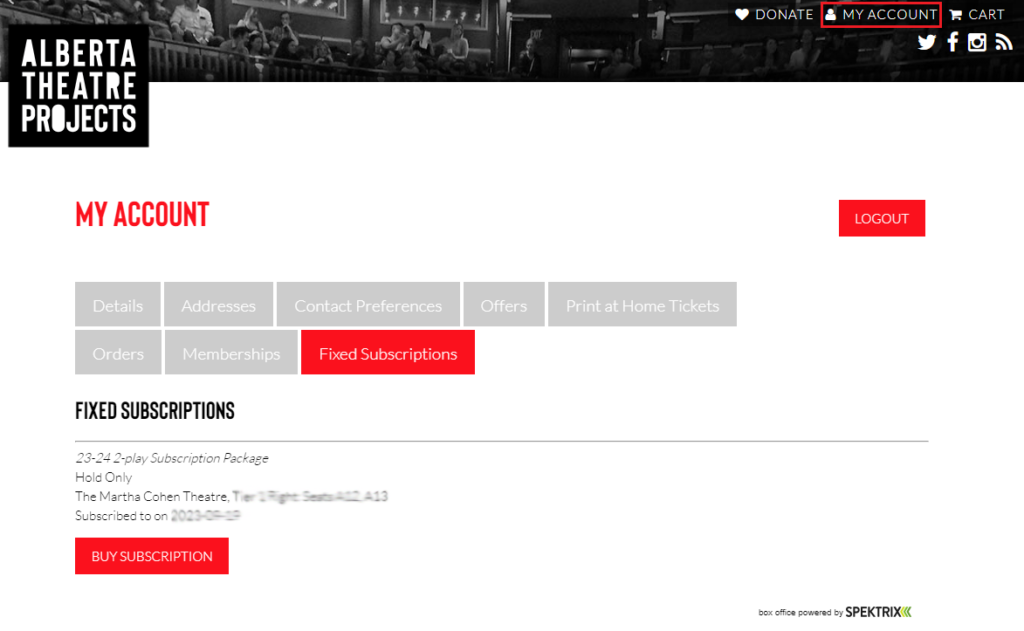 STEP TWO: CONFIRM YOUR SUBSCRIPTION AND REVIEW
Confirm number of packages, dates, and seats. (The subscription package fee is $7, evenly distributed across the two shows.) Hit the 'Buy Subscription' button.
STEP THREE: CHECKOUT
It's easy to add on a donation while purchasing your subscription! Show your support for Alberta Theatre Projects and the future of theatre in Calgary!
Review your personal details, including your address, email, phone number and payment information to ensure accuracy. This ensures that you receive your tickets and stay informed about important performance and ATP updates!
---
BY PHONE:
If would like to renew by phone, please call 403-294-7402. Our Ticket Office is open from 10:00am-4:00pm MT, Monday-Friday.
---
Charitable Registration Number: (B.N.) 11878 1236 RR0001