Subscribe 2019/20
"Alberta Theatre Projects' new season is a mix of fantasy, magic, and realism." – Louis B. Hobson (Calgary Herald)
"Alberta Theatre Projects is keeping with its history as one of the country's most important hubs for contemporary Canadian Playwrighting." – Kelly Nestruck (The Globe and Mail)
Welcome to our 2019/20 season of world-class contemporary theatre! Join the ATP family by becoming a season subscriber. Subscribers receive substantial discounts, great perks, and special access to ATP news and events, including
Up to 20% savings off single ticket prices
10% off additional tickets
Lower service fees
Flexible ticket exchanges
SUBSCRIBE INTO YOUR FAVOURITE EVENT!
Opening Night (First Friday Night): Celebrate with a catered reception and a chance to meet the artists after the show.
Pizza Night (First Thursday Night): Enjoy complimentary pizza and Village Brewery beer sampling in the lobby before the show.
Afternoon Tea (Second Sunday Matinee): Enjoy a complimentary cup of tea from Tea Trader and pastries from Patisserie du Soleil in the lobby before the show.
CALL OUR BOX OFFICE AT 403-294-7402 TO SUBSCRIBE NOW OR SUBSCRIBE ONLINE
---
5 AND 6-PLAY SUBSCRIPTIONS
STEP 1: CHOOSE THE NUMBER OF SHOWS YOU WANT TO SEE
STEP 2: CHOOSE THE DAY OF THE RUN THAT WORKS BEST FOR YOU
Our subscriptions automatically book tickets to the same day for the run of each show. But don't worry if you have dates that conflict. Ticket exchanges are free** and easy.
Eg. You know Sunday afternoons generally work best for you. You can choose from either the 1st or 2nd Sunday of the run, and we'll automatically book you into that show for every performance you want to see. But if ever you have a conflict, you can exchange your tickets for another date easily.
**The first exchange for each show is always free for subscribers. Subsequent exchanges incur a $2.00 service fee.
STEP 3: CHOOSE WHERE YOU WANT TO SIT
All of the shows in our 2019-20 season are performed at The Martha Cohen Theatre. It's a Georgian style theatre with 419 seats – all of which offer great views of the stage.
We have 4 seating zones:
Premiere Circle
Zone A
Zone B
Zone C
Cabaret Stage
Shows in this configuration: The Wedding Party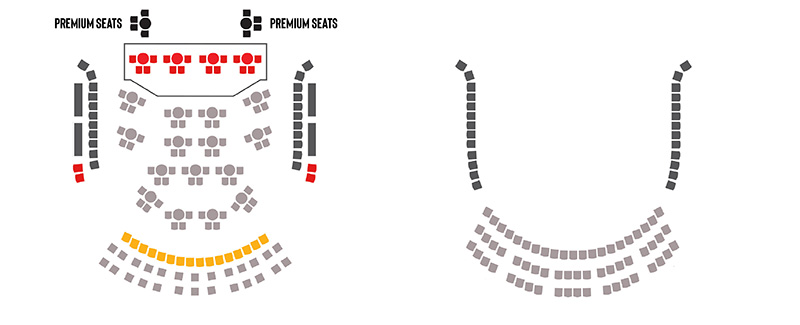 Thrust Stage
Shows in this configuration: Disgraced and The Lion, the Witch and the Wardrobe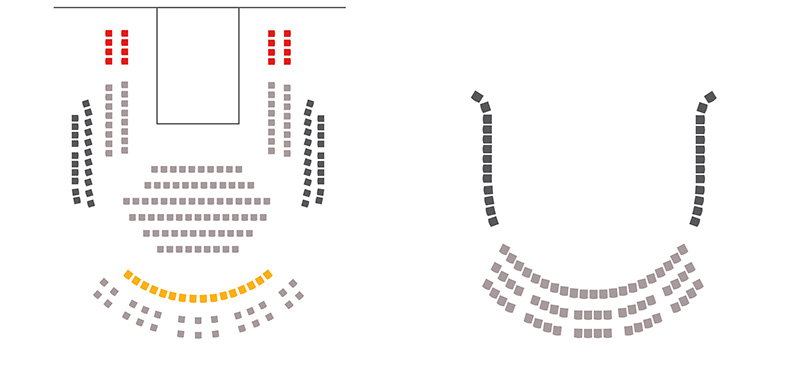 Proscenium Stage
Shows in this configuration: Old Stock: A Refugee Love Story, Actually, and Cowgirl Up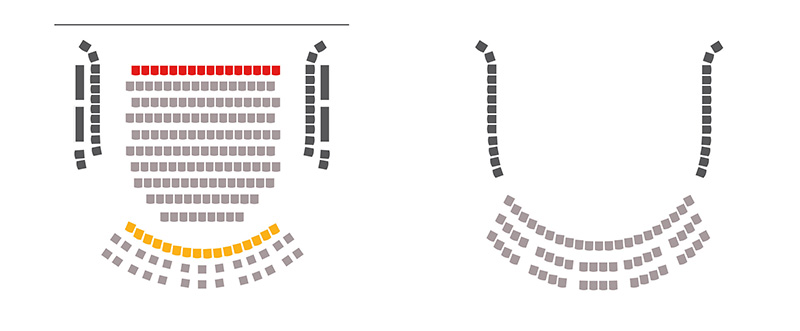 STEP 4: GIVE US A CALL
Call our Ticket Office at 403-294-7402 or email tickets@atplive.com to become a subscriber.
OR BUY ONLINE:
Choose your preferred day of the week below then select your desired seating level on the next page. You'll automatically be booked for the same night of the run for each show. (Want to have a look at the seating maps? Scroll up!)
If you can't attend the same night of every run, no problem. Ticket exchanges are free** and easy.
6-PLAY PACKAGES
5-PLAY PACKAGES
---
GREAT SEATS AT EVERY PRICE
ATP's home – The Martha Cohen Theatre offers comfortable seats with great views of the stage for every budget.
SUBSCRIPTION PRICING
5-PLAY PACKAGE
Tuesday/Wednesday/Preview/Matinee
| | |
| --- | --- |
| ZONE | PRICE |
| Premiere Circle | $350 |
| A | $230 |
| B | $190 |
| C | $140 |
Thursday-Saturday Evening
| | |
| --- | --- |
| ZONE | PRICE |
| Premiere Circle | $360 |
| A | $235 |
| B | $200 |
| C | $165 |
6-PLAY PACKAGE
Tuesday/Wednesday/Preview/Matinee
| | |
| --- | --- |
| ZONE | PRICE |
| Premiere Circle | $419 |
| A | $275 |
| B | $227 |
| C | $167 |
Thursday-Saturday Evening
| | |
| --- | --- |
| ZONE | PRICE |
| Premiere Circle | $431 |
| A | $281 |
| B | $239 |
| C | $197 |
Need help choosing the right seat? Our Ticket Office team would be thrilled to help you. Call 403-294-7402
---
RENEWING YOUR SUBSCRIPTION
RENEWAL NOTICES MAILED
If you were a subscriber for our 2018/19 season, your renewal package will be arriving in the mail by mid-March, 2019! If your address has changed, please contact the ticket office to ensure we have your correct address on file.
Once you receive your renewal form, simply return the completed form with payment information by mail to:
Alberta Theatre Projects
220 9 Ave SE
Calgary, Alberta
T2G 5C4
or drop it off in person at our Ticket Office during our regular hours.
RENEW BY PHONE
If would like to renew by phone, please call 403-294-7402 or e-mail tickets@atplive.com.
RENEW BY E-MAIL
We will also send a renewal notice to you by e-mail with the option of auto-renewing provided we have your credit card information on file.
---
MORE WAYS TO SAVE
FLEX PASSES
THE SHOWS YOU WANT. THE SAVINGS YOU CRAVE.
Flex Passes come in packs of 4 or 6 tickets and can be used in ANY combination for ANY show in the 2019/20 season.
Good for seats in Zone A, B, or C – you'll get the best seats available on the day you book, saving you up to 15% and service charges.
GROUPS
GROUPS OF JUST 8 OR MORE QUALIFY FOR DISCOUNTS OF UP TO 20% OFF REGULAR PRICES.
PERFECT FOR:
Staff appreciation events
Family-friendly holiday parties
Client hosting
Social clubs
Church groups
Team outings
---
We look forward to welcoming you back to the theatre!