Disgraced
BY AYAD AKHTAR
DIRECTED BY NIGEL SHAWN WILLIAMS
OCTOBER 16 – NOVEMBER 3, 2019
PULITZER PRIZE-WINNING DRAMA  |  CORE SEASON  |  THRUST STAGE
"TAUT, engrossing and powerful" – the gUArdian
"puts contemporary attitudes towards religion under a microscope, revealing how tenuous self-image can be for people born into one way of being who have embraced another" – nyt
"a compact, stunning gut punch addressing the cultural affinities some of us are allowed to escape and those we aren't" – time out chicago
Amir Kapoor is a successful Pakistani-American lawyer living on the Upper East side of Manhattan. He has also turned his back on his Muslim heritage. When he and his wife host a dinner party for Amir's rising African-American colleague and her Jewish husband, the evening gives way to a searing debate about race, privilege, politics and identity, fearlessly taken on from a variety of cultural perspectives. Marriage, friendships, ambition, religion, race, art and power: nothing is off-limits in this riveting drama.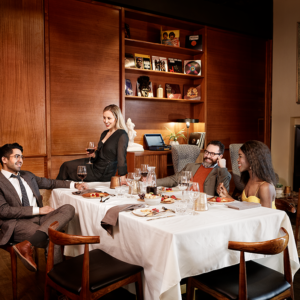 Tense, surprising and shockingly funny, Disgraced will hold audiences on the edge of their seats.
Audience Considerations: Contains mature themes, graphic violence, and coarse language. Suggested for ages 18+.
Running Time: Approximately 90 minutes (no intermission).
Subscriptions for the 2019/20 season are on sale now!
For more info call our Ticket Office at 403-294-7402 or email us at tickets@ATPlive.com
---
Tell us what you thought of Disgraced!