A Note from Darcy
A Message from our Executive & Artistic Director, Darcy Evans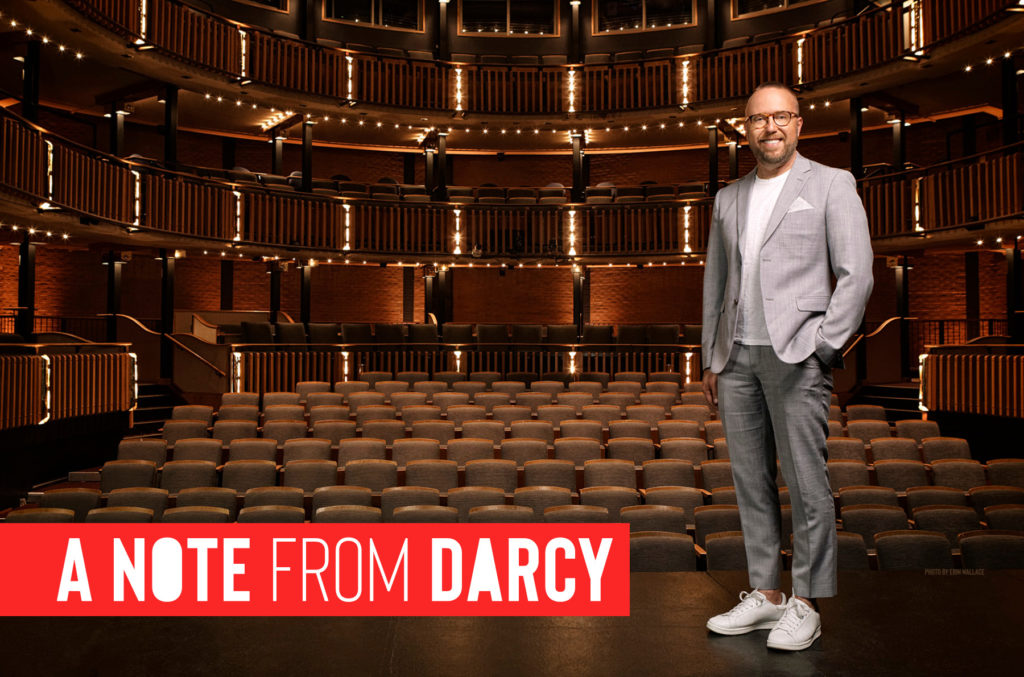 Dear Friends,
For the past six months, we have all come face to face with unprecedented events. As we endeavour to live, work and keep our loved ones safe in the face of unbelievably challenging circumstances, I am sure each of us has a unique story to tell. Today, I'd like to take a moment share my own.
This spring, I was diagnosed with cancer. As many of you will know from personal experience, there is no way to prepare for the difficult, complex journey of this disease. That said, I am so grateful to have received extraordinary care here in Calgary, surrounded every step of the way by the love and support of my family and friends.
I am also grateful that over the course of the past 6 months, through surgery and treatment, I've been able to continue in my role as Executive and Artistic Director at Alberta Theatre Projects. In the face of this ongoing personal challenge, it has been profoundly reassuring to come to work every day and fight for this company I care so deeply about.
At this time, however, after consulting with my care team, I've made the difficult decision to temporarily take some time away and focus my energy on further treatment and recovery. In my absence, the work of Alberta Theatre Projects will move forward in the capable hands our extraordinary staff and board of directors.
I have great confidence in the future of our organization. We confirmed this month that the historic success of our 2019-20 season has completely eliminated Alberta Theatre Projects' accumulated debt, putting us on firm financial ground. Our recently-announced Playwrights Unit and commissions of seven new plays renews a commitment to our legacy as a national leader in the development of new Canadian work. I know exciting days lie ahead for this incredible organization as we look forward to our 50th Anniversary!
Thank you, from the bottom of my heart, for your continued support and dedication. Your generosity and passion for Alberta Theatre Projects is a constant source of personal inspiration. I will keep you all close to my heart, and look forward to returning to work as soon as I possibly can. Until then, please stay positive and be kind to one another. Together, we will all make our way safely through these difficult days.
Sincerely,
Darcy