Celebrity Hors d'Oeuvres
Celebrity Hors d'Oeuvres 2019
Saturday, April 27, 2019
Willow Park Wines & Spirits
STAY TUNED FOR MORE DETAILS AND TICKET INFORMATION!

---
Thanks for an amazing 25th anniversary event!
The 2018 edition of Celebrity Hors d'Oeuvres is officially a wrap! A big thank you to the incredible restaurant teams and awesome local celebrities who brought everything they had to the table! And huge thanks to the event committee and our intrepid volunteers, to our host and generous supporter Willow Park Wines & Spirits and to event sponsors Shaunessy Investment Counsel Inc. and Litwiniuk & Company. Your time and support mean the world to us, and the event wouldn't have been the same without you!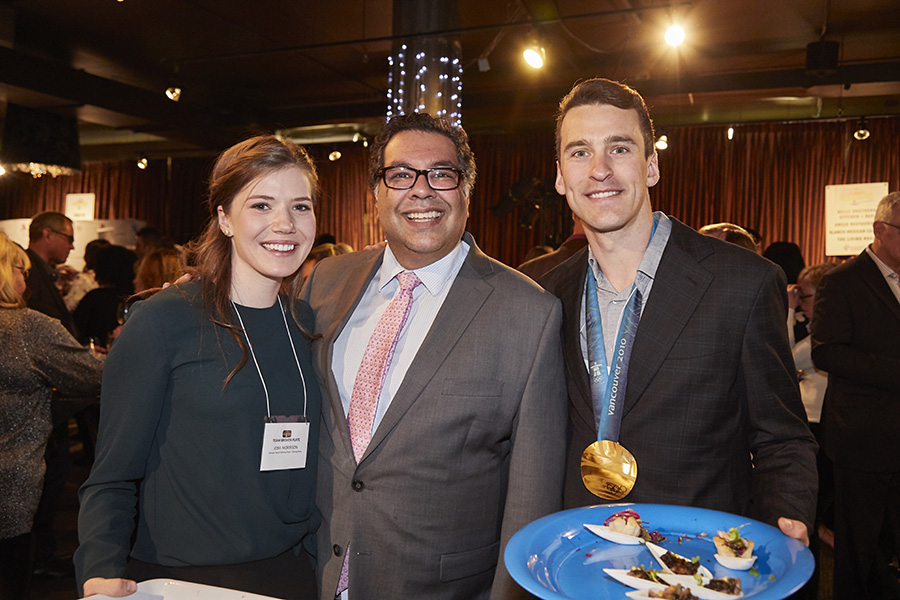 ---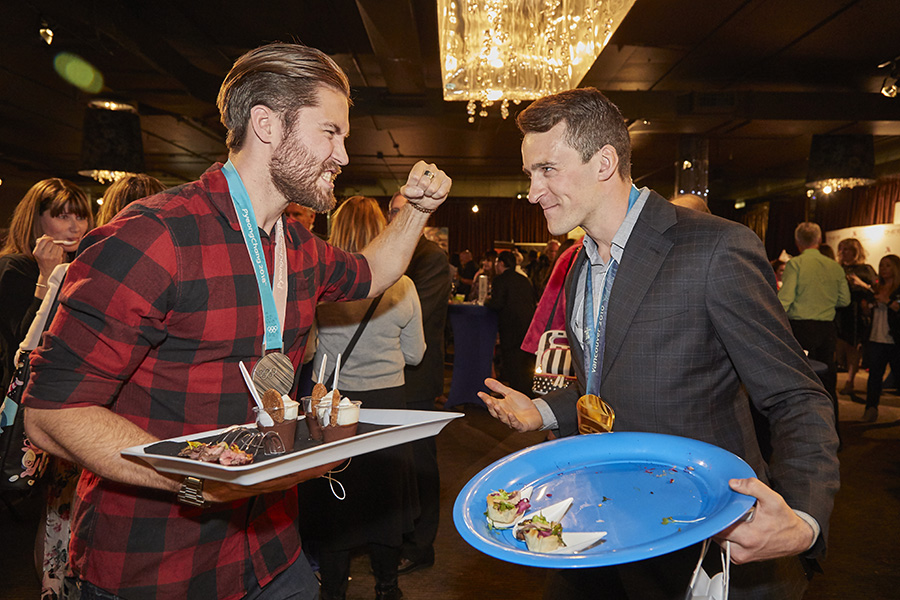 ---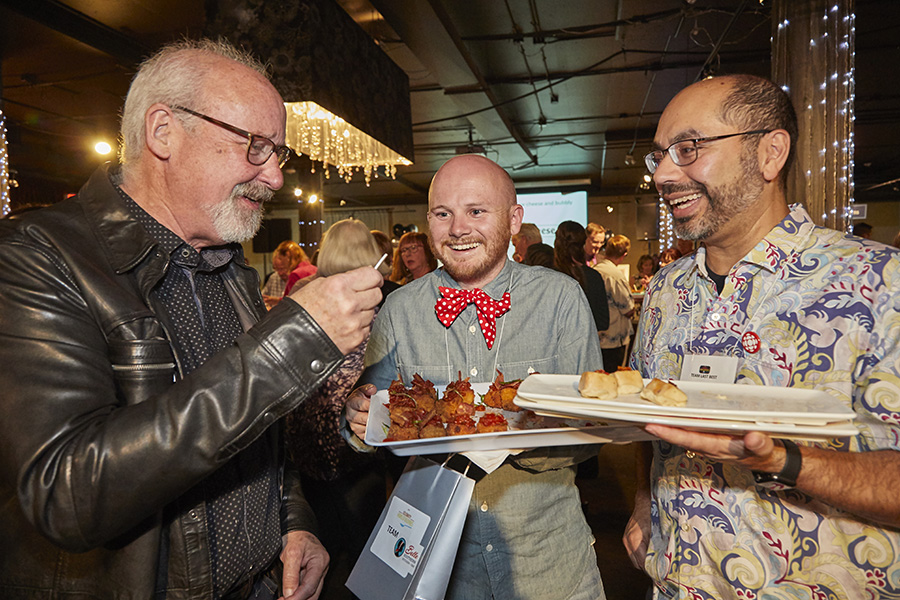 ---
Congratulations to the 2018 Award Winners!
(Though really, the guests who got to devour all the delicious hors d'oeuvres are the REAL winners.)
BEAUTIFUL BITE: THE WESTIN CALGARY, CHEF MICHAEL BATKE
CELEBRITIES: LINDA OLSEN & TONY TIGHE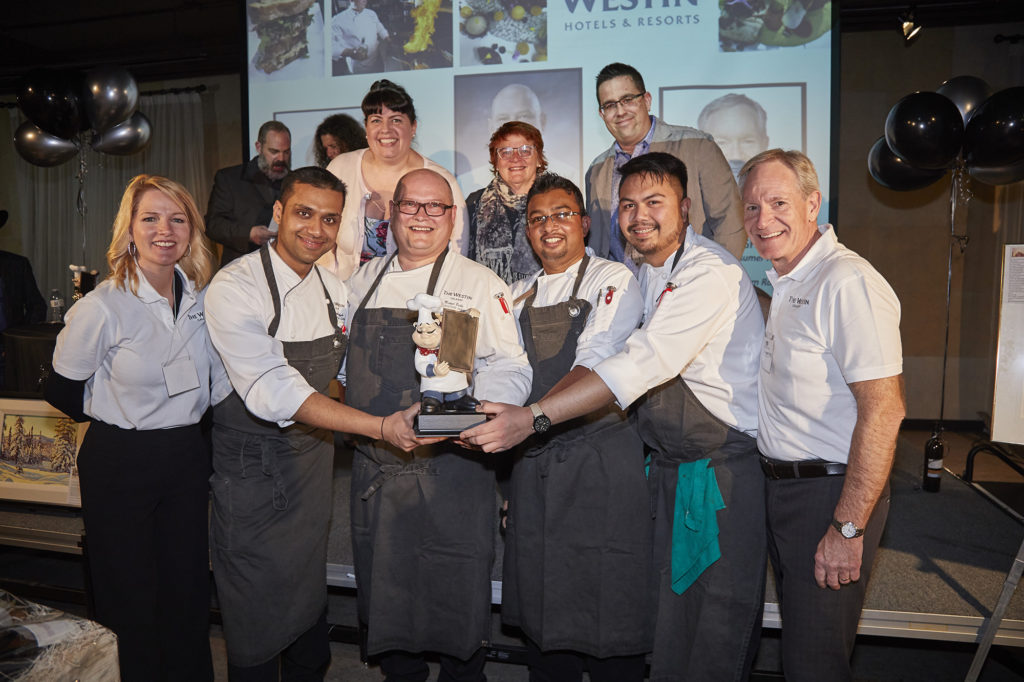 ---
PICTURE PERFECT: ONE18 EMPIRE, CHEF ADAM DUNSIRE
CELEBRITIES: JIMMY-LEE VENNARD & CIERAN STARLIGHT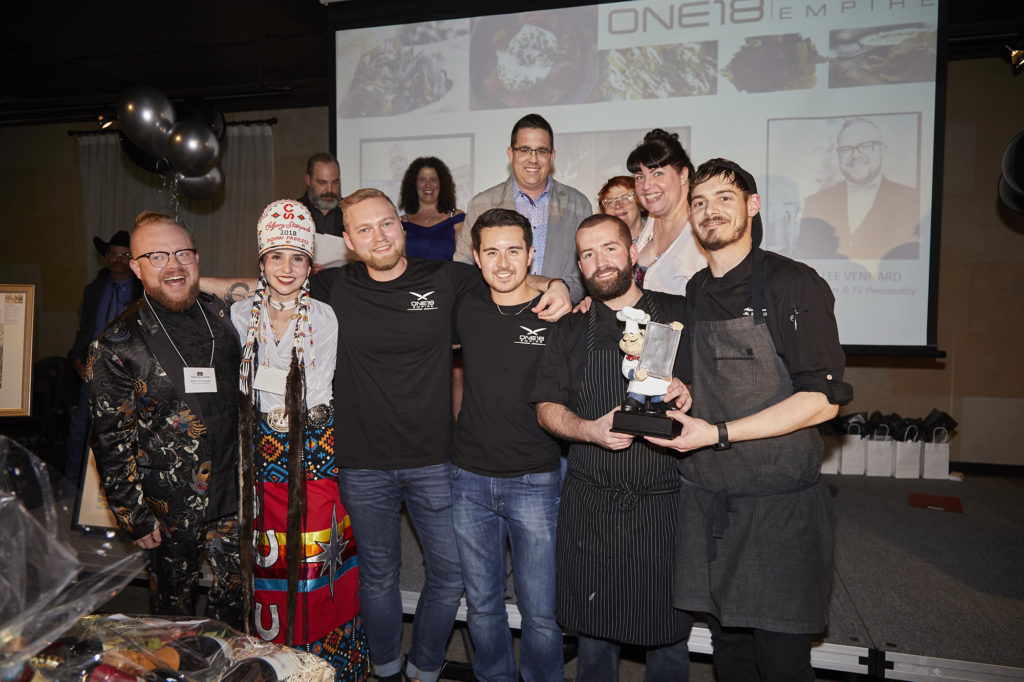 ---
PICTURE PERFECT: ONE18 EMPIRE, CHEF ADAM DUNSIRE
CELEBRITIES: JIMMY-LEE VENNARD & CIERAN STARLIGHT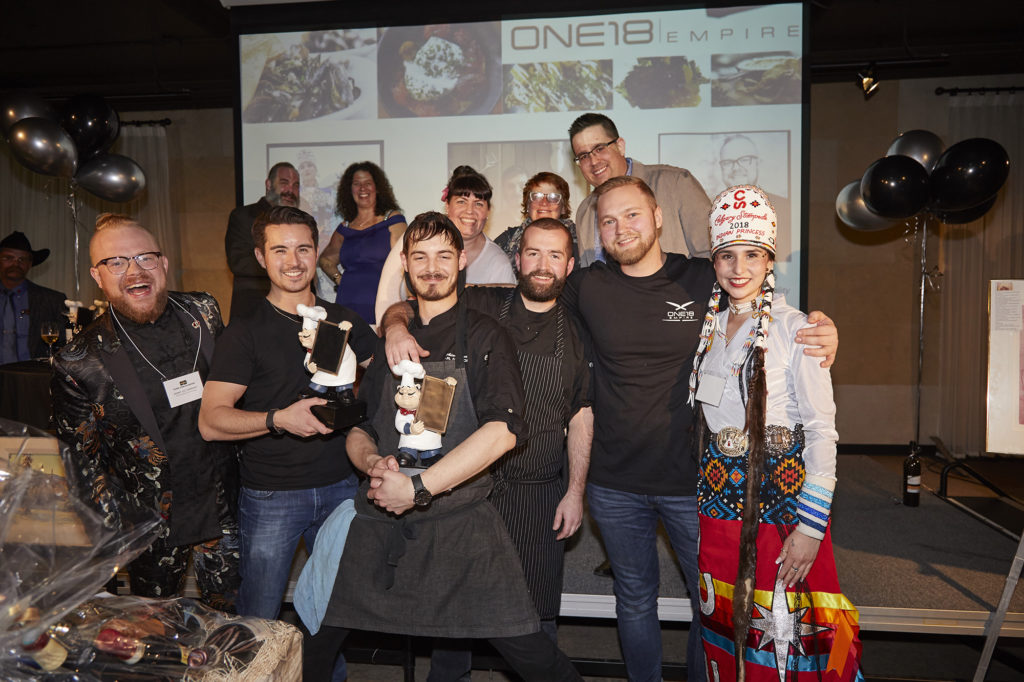 ---
STANDING OVATION: TEAM BOW VALLEY RANCHE, CHEF DARYL KERR
CELEBRITIES: CHRISTINA SMITH & TENAJ WILLIAMS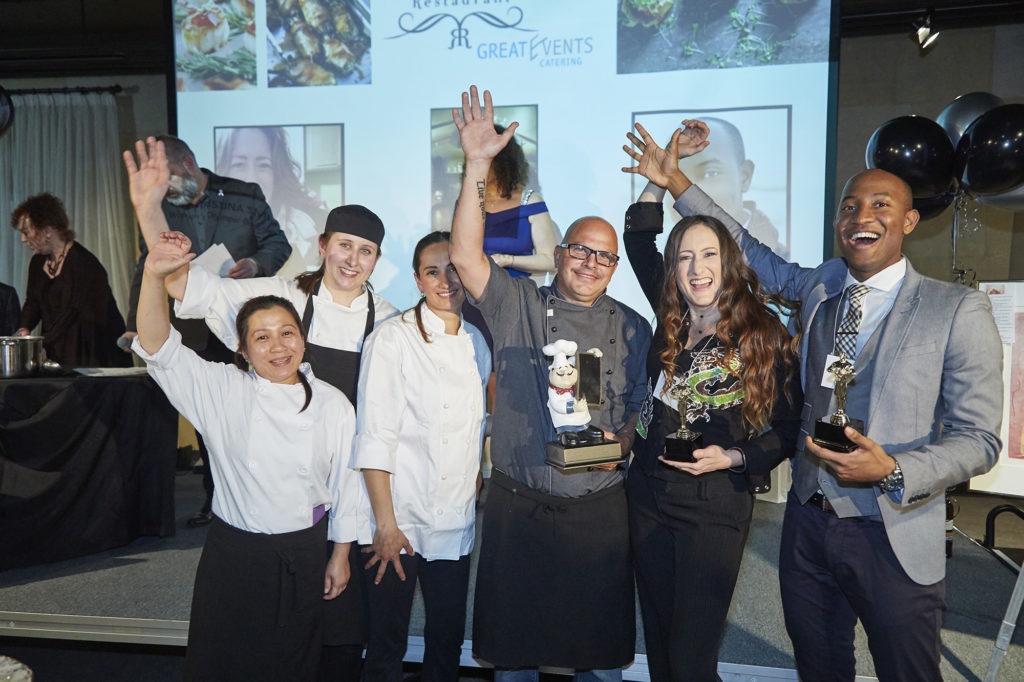 ---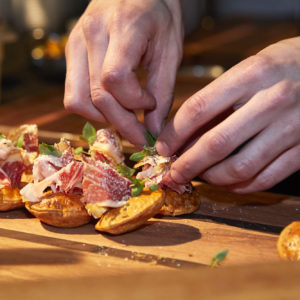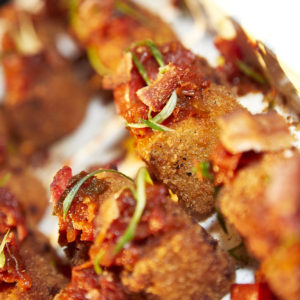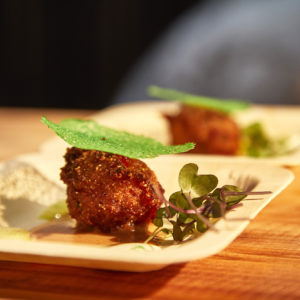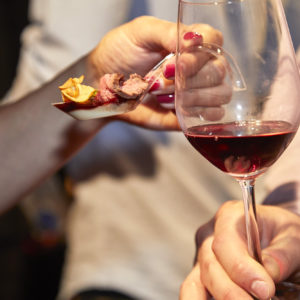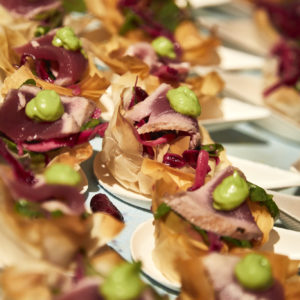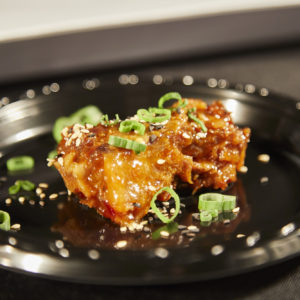 ---
2018 Participating Restaurants:
---
2018 Participating Celebrities: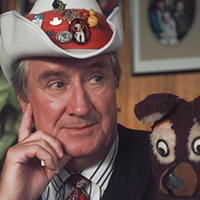 Ron "Buck Shot" Barge, CFCN's The Buck Shot Show
Ron "Buck Shot" Barge is a Calgary Entertainer and retired Host of The Buck Shot Show, a local children's television series that ran on CFCN Television from 1967 to 1997. When the show ended, it was the longest-running children's TV show in Canadian history.
---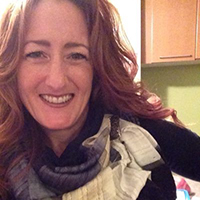 Christina Smith, Canadian Olympian, Bobsleigh
Christina Smith is one of the world's pioneers of the extreme winter sport of women's bobsleigh. She was Canada's first bobsleigh pilot at the inaugural Olympic Winter Games in Salt Lake City in 2002 with brake woman Paula McKenzie. A Montreal native who was raised in Calgary, Christina won Canada's first ever official World Cup bronze medals at the 2000 and 2001 events.
---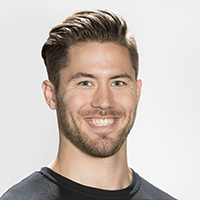 Tristan Walker, Canadian Olympian, Pyeongchang 2018 Silver Medalist, Luge
Tristan Walker, a Calgarian Olympian most recently took home a Silver medal from the Pyeongchang Olympics in the Doubles Luge event. In 2010, at age 18, Tristan made his debut at the Vancouver Olympics.
---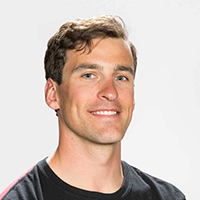 Denny Morrison, Canadian Olympian, 4-time Olympic medalist, Speed Skating
Denny Morrison is a Canadian speed skater who hails from Fort St. John, British Columbia. He is an Olympic champion as a member of Canada's men's team pursuit. Morrison won his first individual Olympic medal in Sochi when he won silver in the men's 1000m, followed by a bronze in the same Olympics in the 1500m race. Holding a total of four medals, Morrison shares the record for the most medals of any Canadian male long track speed skater.You can see Denny, along with his wife, Josie, in the Heart and Stroke commercial, currently playing at all Cineplex Odeon theatres.
---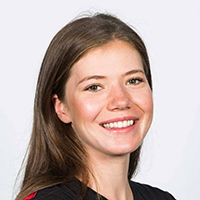 Josie Morrison, Canadian Olympian, Speed Skating
Josie Morrison enjoyed an international breakthrough in November 2017 when she won her first career World Cup medal at the season-opening stop in Heerenveen, Netherlands, taking bronze as a member of the team pursuit. Morrison's previous international experience includes the 2012 and 2013 World Junior Championships. One of her fondest memories is from the 2011 Canada Winter Games in Halifax. In addition to winning 3000m bronze, she captured gold in the team pursuit. You can see Josie, along with her husband, Denny, in the Heart and Stroke commercial, currently playing at all Cineplex Odeon theatres.
---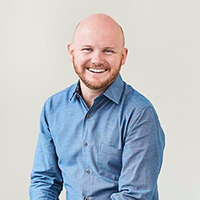 Mike Morrison, Blogger & Twitter personality, Avenue Top 40 Under 40
Mike's Bloggity Blog is one of Canada's favourite entertainment and lifestyle blogs. For the past eleven years Mike's blog has regularly featured travel stories, social media scoops, local and national news, celebrity interviews and contests. Mike Morrison was named Calgary's second most influential person on social media.
---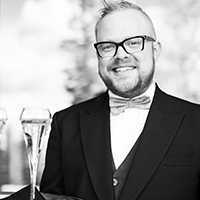 Jimmy-Lee Vennard, Azuridge Estate Hotel Estate Butler
As the Estate Butler at the Azuridge Estate Hotel, Jimmy-Lee Vennard is truly one-of-a-kind. The multi-talented butler has made it his mission to accommodate your needs and give you the best possible experience while visiting the Azuridge Estate Hotel. He works hard so that you don't have to!
---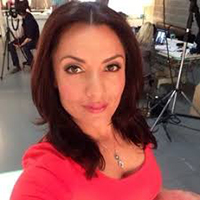 Camilla di Giuseppe, CTV News Anchor
In just over five years Camilla di Giuseppe has worked in three different Canadian cities, four different stations, has interviewed numerous interesting and fascinating individuals, and covered some extraordinary events. She has been with CTV since 2006. News affects and impacts the communities we live in and she is very proud to be a part of the process. She Volunteers with the Salvation Army, and can be seen participating in charitable running events as well.
---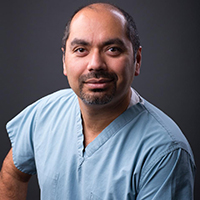 Dr. Raj Bhardwaj, Physician & CBC Radio Personality, Calgary Eyeopener
Dr. Raj Bhardwaj is more than a Doctor. He is a Science Communicator, Soccer player and fan, CBC Western Canada weekly syndicated Health & Medicine Columnist and self-proclaimed Nerd. As well as being the house doctor on the Calgary Eye Opener, he is the Host of DDx podcast.
---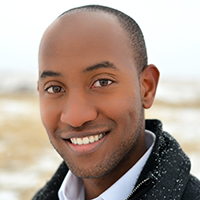 Tenaj Williams, Calgary Actor & Musician, Wilbur in ATP's Charlotte's Web
Tenaj Williams is a Calgary Actor and Musician who has performed with many companies in the city including The Shakespeare Company, Theatre Calgary, Verb Theatre and Story Book Theatre. He has received the Calgary Critics Award for his work in The Paperbag Princess. Recently, Tenaj played Wilbur in Alberta Theatre Projects 2017 family holiday show, Charlotte's Web.
---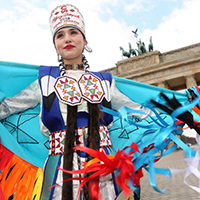 Cieran Starlight, 2018 Calgary Stampede Indian Princess
As the 2018 Calgary Stampede Indian Princess, Cieran Starlight has made hundreds of appearances locally, nationally and internationally, educating those she meets about First Nations cultures as well as their connections to the iconic Calgary Stampede. Cieran Starlight is a 21 year old Jingle Dress dancer from Tsuut'ina First Nation. She is currently attending Alberta College of Art & Design where she is studying to obtain her Bachelor of Fine Arts.
---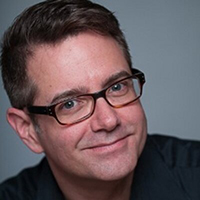 Joe Slabe, Musical Director, Composer
Joe Slabe is a Calgary-based writer and composer with a Master's Degree in musical theatre from the University of London. Honours include a Calgary Critics' Award for Best Production of a Musical for Touch Me: Songs for a (dis)Connected Age, five awards from the New York Musical Festival for Crossing Swords, and four Betty Mitchell Awards for his musical direction. Joe is the founding artistic director of Forte Musical Theatre Guild and received the 2004 Greg Bond Award for outstanding contributions to musical theatre in Calgary. His last name rhymes with "The Bay".
---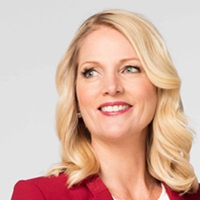 Linda Olsen, Global News Anchor
Born and raised in Calgary, award-winning journalist, Linda Olsen graduated from SAIT Polytechnic in 1988 with an Honours degree in Broadcast Journalism. She joined Global Calgary in 1995 and in her 20 years at Global, Olsen has seen some of the biggest events to hit the city. Linda was the host and producer of Global's Woman of Vision series from 1998-2013. For 15 years, she highlighted the stories of inspirational women in the community.
---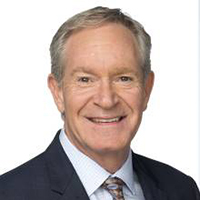 Tony Tighe, Global News Consumer Reporter
Covering and investigating consumer issues in the city for over 30 years, Tony Tighe is Calgary's most experienced consumer reporter. Tighe has been in broadcasting for 40 years, working in radio and television in Ontario, British Columbia and Calgary. He joined Global News in 1999.He received the Better Business Bureau Ethics Award in 2002 and has multiple provincial and national awards for investigative and feature reporting including the National Radio Award for Best Program.
---
Featuring:
---
Thank you to our supporters!
---
2018 Celebrity Hors d'Oeuvres Committee
Sincere thanks to our hard working Celebrity Hors d'Oeuvres committee members who organize, wrangle and otherwise turn themselves inside out to make both the auction and the event a reality!
Ashley Meller, Fern Etzkorn, Jean Driver, John Pukas, Kodie Rollan, Manisha Dangol, Marilyn Potts, Michael Bigattini, Michael Dekker, Renee Reichelt, Sandra Ens, Sheryl Guillaume
If you have any questions about Celebrity Hors d'Oeuvres, please contact committee chair, Kathryn Kerbes.